Taking a Walk on the Wild Side at Parque el Cubano near Trinidad, Cuba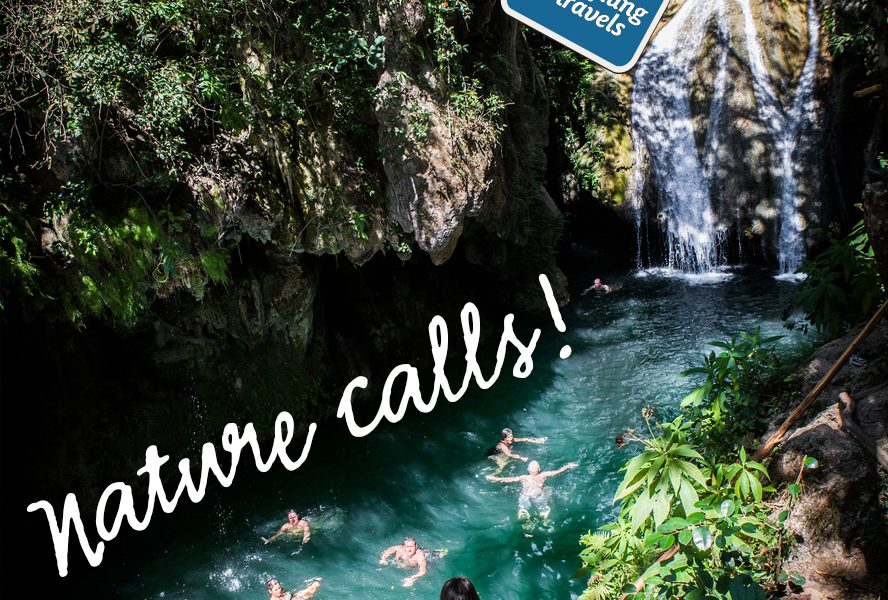 Episode 5 of "3 Minutes in Cuba": Nature Calls at the Parque el Cubano
Staying in a casa particular in Cuba is a lot like visiting long-lost relatives. You are a guest in someone's private home. Now that the U.S. has relaxed restrictions on visiting Cuba, staying at a casa will help qualify most American citizens under the person-to-person category for approved travel. It's a great way to connect with everyday Cubans and get their perspective on possible changes coming in the future should the U.S. Congress vote to lift the embargo once and for all.
"Well, we'll see what happens," the casa owner tells me. "If Obama can put an end to the embargo and close the base at Guantanamo, bring internet, and bring wellbeing to the people, it'll be a crazy day."
It's the dawn of a new day in Cuba, both literally and figuratively. All politics aside, we're just looking forward to breakfast. There are hard-boiled eggs, fresh juices, tea, coffee, and toast topped with either homemade guava jam or a fresh coconut spread that looks like oatmeal.
It's delicious and filling. We're going to need all the extra fuel we can get because we're heading out to explore one of Cuba's national parks. But first, we have to stop by the neighbor's house down the street to get our car. Enrique and his wife have a secure driveway that can accommodate a handful of vehicles. It felt strange giving him the keys initially — visions of the parking attendant's joy ride in the film Ferris Bueller's Day Off came to mind. However, our casa owner assured us they would take good care of the vehicle.
Within 10 minutes from leaving Trinidad, we've arrived at the Parque El Cubano, which is a great place for experiencing the great outdoors. It has a swinging bridge, nature trails, caves, swimming holes and a waterfall that plunges into a deep natural pool. To see and do everything, we budget two to three hours for a visit, which includes a brief stop off at the park ranger's house on the way. He and his family live there and grow medicinal herbs for tea and takes care of the building on behalf of the Cuban government.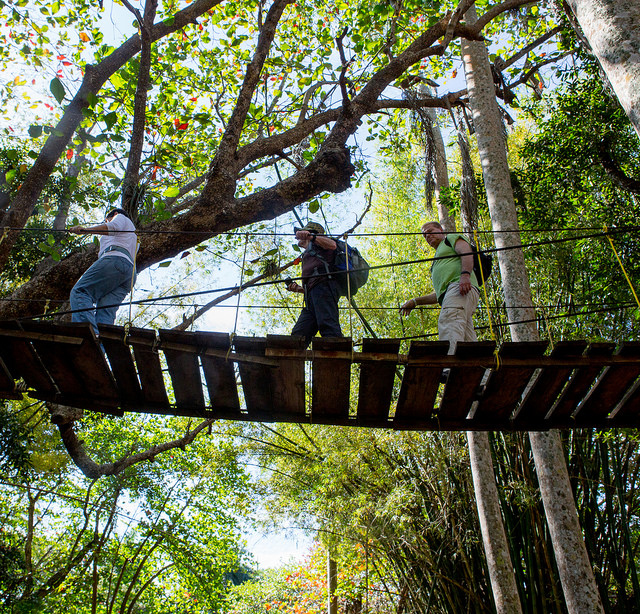 Just a bit further along the path, we come to the Javira waterfall. The park ranger explains that we can jump from the ledge above the natural pool and despite some apprehension, we can't wait to get into the water, whether we decide to fling ourselves off the cliff or not.
After getting use to the idea, we decide to go for it. The icy cold water is a bit of a shock at first, but it's a refreshing post-hike cool down.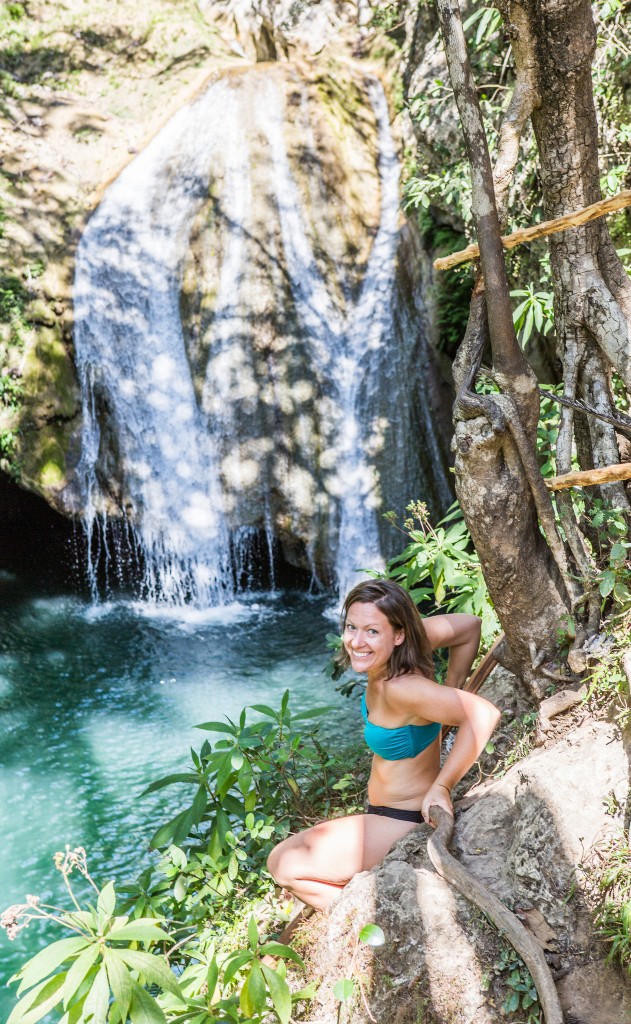 There's a swimmable cave system that extends behind the waterfall and my friend Erin comments she's never swam in a cave before. It's dark, but we can see some bats flying around.
Some visiting American national park rangers were just coming out of the cave and they warned us about a snake inside. "You gotta be careful, it's got a viper head on it," says one of them. The other comments, "I had my hand right on him and he didn't do a damn thing."
Are you kidding me? I thought they were joking at first. It turned out to be the honest-to-goodness truth, so we didn't go very far behind the falls. But that's okay. We still had fun swimming, sunning ourselves on the rocks at watching others jumping from the cliff into the water below.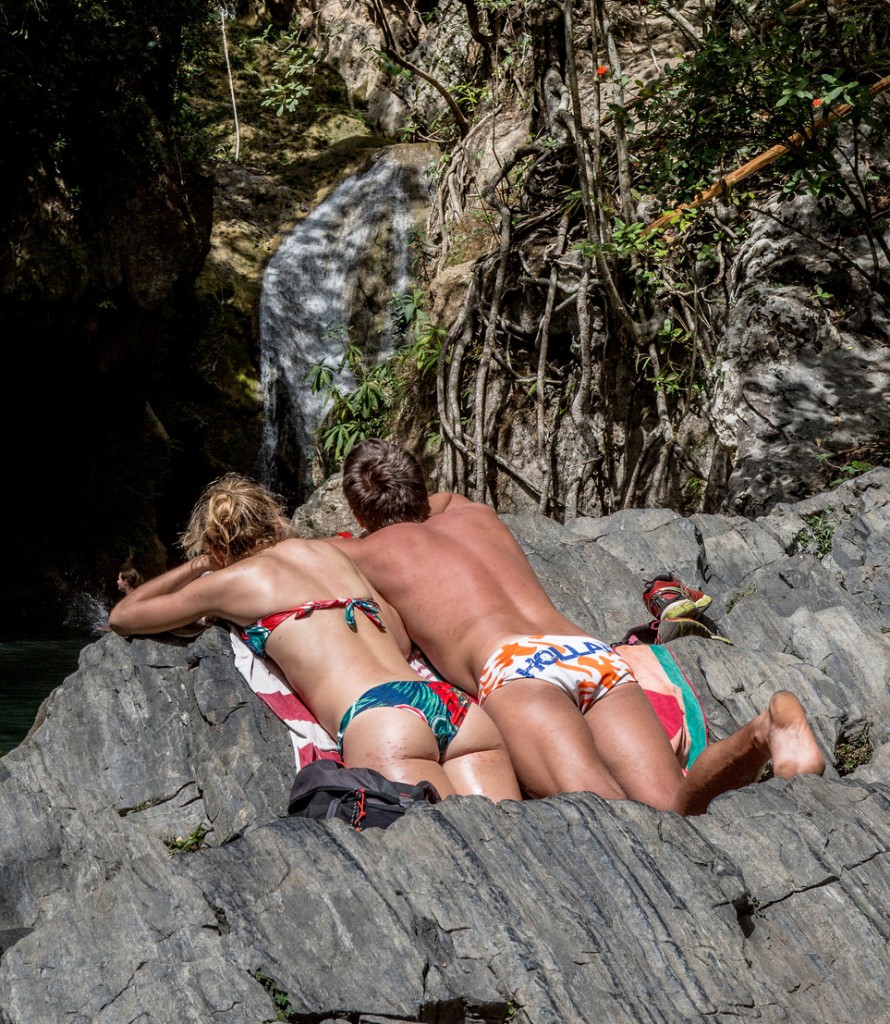 For more information on Cuba travel, be sure to read "How to travel solo in Cuba as an American."