How to make Ajiaco like a local in Bogotá, Colombia (with recipe!)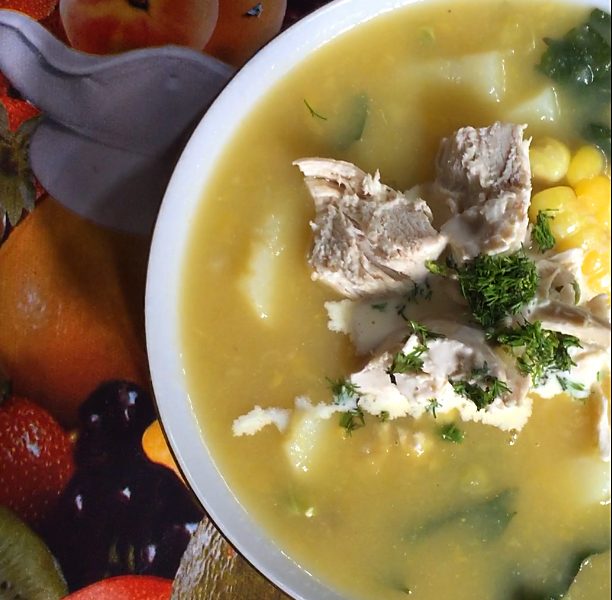 21 June, 2016
Adventure
,
bogotá
,
Colombia
,
Food
,
travel
,
trip
ajiaco
,
Bogota
,
Bogotá Bike Tours
,
class
,
Colombia
,
cooking
,
cuisine
,
culinary
,
gastronomy
,
how to make
,
instruction
,
La Candelaria
,
soup
,
South America
Standard
Doña Elsa Ramirez shares Colombian culinary traditions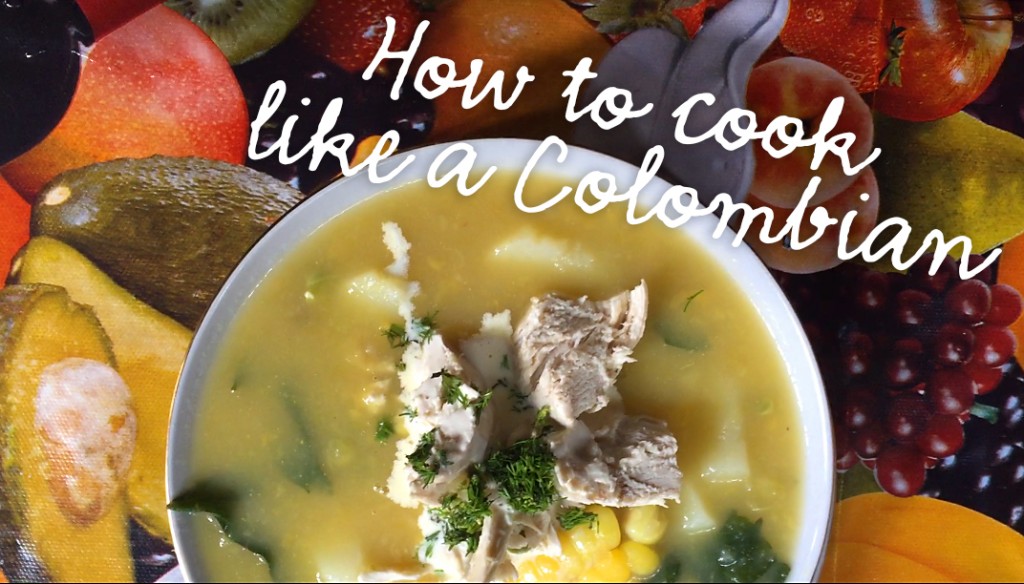 Food is a universal language, so taking a cooking class while traveling is a great way to get to know local people and their traditions. My husband, Chris, and I heading to meet our instructor, but at the moment, a mountain is the only thing standing between us and a delicious home-cooked Colombian meal.
The directions to our Bogotá destination were straight forward, except maps can be deceiving. We wouldn't have a long walk from the Museo del Oro Transmilenio bus stop, but our sea-level mindsets hadn't considered the elevation change. We turned a corner at the Plaza Bolivar, then found ourselves staring at a steep climb.
We huffed and puffed up the mountain, all the while grumbling about why we hadn't ordered an Uber. When we finally rang the bell, Elsa Ramirez greeted a pair of pathetic red-faced, out-of-breath tourists at her front door. She took pity on us and invited us to catch our breath before starting the lesson.
"We have to go to the market and it's up a little more," she warns us in Spanish. A few minutes later, we're ready to go buy the ingredients to make ajiaco, a hearty soup that Elsa says is made for special occasions, including Christmas Eve dinner.
Despite the climb, the local butcher shop and vegetable market are relatively close by. On the way, we can finally appreciate the spectacular views of the city below that her mountainside neighborhood affords. Doña Elsa stays in great shape by walking this route to the market every day to buy fresh ingredients for her home-cooked meals. She hates processed meals and laments that young people these days don't have a lot of time to prepare dishes from scratch. She doesn't even like going out to eat "because you just don't know if things are clean or prepared right."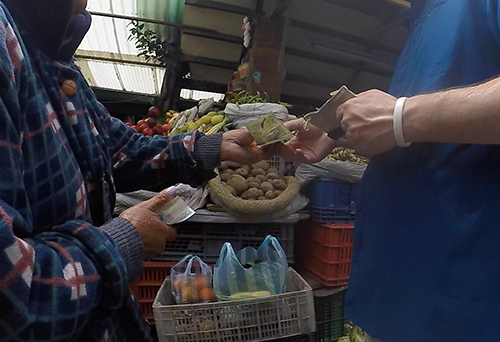 After we purchase the various ingredients (see the shopping list below), we head back to her house, navigating through a labyrinth of narrow rooms filled with antique furniture, covered with lace and woven blankets. Through the thin walls of the house, we can hear her grandchildren playing, her three parrots squawking and the four-month-old puppy, Zack, barking like a good guard dog should. It isn't long before he stretches out on his back to accept my belly scratches and the resident cat slinks over to share in the love fest, too.
I'm a sucker for animals, but I'm supposed to be paying attention to the cooking instructions. Once in the kitchen, she put us to work at her table, which was covered with an oilcloth fabric designed with a jumble of fruits and vegetables — not to mention a few glasses of stout beer, which didn't seem to belong.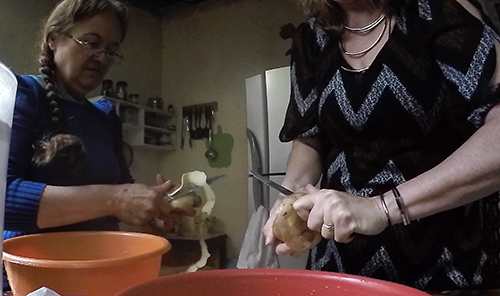 Doña Elsa leads the session by skinning the chicken breast and plopping it into the pot of boiling water on her stove. Then, she hands me a knife and turns her attention to the potatoes, deftly peeling them with the skins forming one long strand that drops onto the tablecloth. I'm no slouch, but I don't come close to matching her level of skill. But let's face it; it's not rocket science. I slice the potatoes while Chris emoves peas from their pods, then we take turns grating the yucca-like arracacha. The ingredients disappear into the pot for about 15 minutes.
In the meantime, Doña Elsa makes fresh juice with lulo, a typical Colombian fruit that has a sweet and sour taste. On a side note, the number of exotic fruits in the country is unbelievable. I am finding it hard to keep track of all the delicious juices I've been drinking and it's even harder to describe what they taste like. In just a few days, I've also had corozo (acidic and tart like lemonade) and feijoa (described as pineapple, guava and strawberry combined).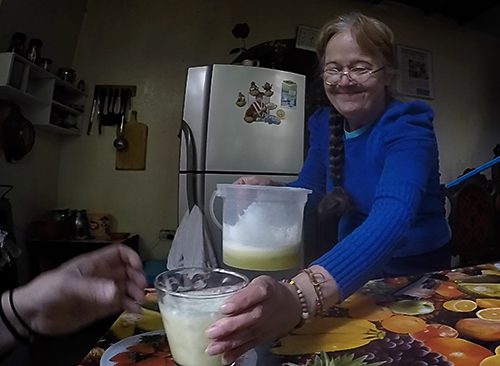 After downing a refreshing glass of the juice Doña Elsa has prepared, we get back to work prepping the last of the ingredients to go in the pot. We cut the white potatoes into chunks and pluck leaves of guasca, an herb that those of us in the United States call a weed.
As we wait for them to boil in the pot for 15 minutes more, Elsa writes down the list of ingredients we had used. Many of the herbs and vegetables used in Colombian cooking are difficult to find outside of the country, but she offers some suggestions for substitutions, which I've included in the recipe below.
Beyond finding the right ingredients, the one-pot recipes is "muy fácil" to make — and very filling.
Want to learn to make Colombian dishes with Doña Elsa? Sign up for the class through Bogotá Bike Tours. The class cost us 95,000 COP (around $30 USD), plus the cost of all the ingredients, which totaled around $4 USD.
Ajiaco Recipe:
(serves 4)

Ingredients:
2 skinned chicken breasts / pechuga de pollo
1 corn cob / mazorca de maiz
2 pounds (1,000 grams) creole potatoes / papa criolla
(There are hundreds of potato varieties in the Andes. This a creamy yellow potato that is commonly used in Colombia, but hard to find elsewhere. The closest substitute is a small Yukon Gold.)
1 pound (500 grams) arracacha
(This is a starchy root vegetable from the Andes. Substitute with cassava or yucca).
1/2 pound (250 grams) peas / arvejas
1 pound (500 grams) white potato / papa blanca
1 cup (340 grams) guasca
(Known as a weed called "gallant soldier" in the U.S., galinsoga parviflora can be substituted with spinach)
Salt to taste
Garnishes:
cream / creme de leche
cilantro / cilantro
Directions:
– Bring 2 liters (approximately 8 cups) of water to a boil over medium heat in a large pot.
– Add the whole chicken breasts, creole potatoes, arracacha and beans and boil for 15 minutes, stirring occasionally.
– Add the white potatoes, guasca and salt and continue boil for 15 more minutes.
– Remove the chicken breasts and cut into small pieces.
– Ladle the soup into bowls.
– Top with chicken and garnish with cream and cilantro.