Exploring the Music Scene in Old Town Havana, Cuba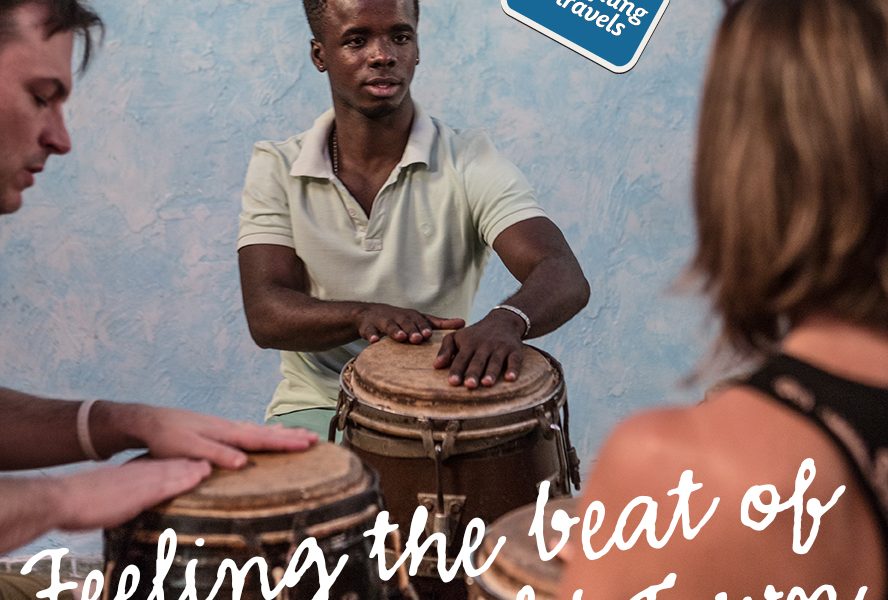 18 March, 2016
Caribbean
,
Cuba
2016
,
american
,
americano
,
callejón de Hamel
,
cannon ceremony
,
cuba
,
Cubano
,
culture
,
drum
,
embargo
,
Gobierno
,
Government
,
havana
,
la bodeguita del medio
,
la casa del son
,
La Habana
,
music
,
musica
,
Obama
,
people to people
,
Percusion
,
Percussion
,
President
,
san carlos de la cabaña
,
tambor
,
travel
,
Viajes
Standard
Episode 2 of "3 Minutes in Cuba": Feeling the Beat of Havana's Old Town
Swish, swish, zip.
Pause.
Swish, swish, zip.
What's that sound? It's a group of tourists trying to master a Cuban rhythm. We're in Havana's Old Town taking a percussion lesson at La Casa del Son. In a two-hour class, students learn the basics of Cuban rhythms like son and rumba, while using traditional instruments, such as the güiro, the clave, maracas and the tambor.
Our instructor, Osmel, is patient with us, but there's no way we're going to be ready to hit the stage anytime soon. We've dubbed ourselves "Sin Ritmo" which means No Rhythm.
The sound is much better at the Callejón de Hamel, where we listen to people who know what they are doing. This colorful street is the center for Afro-Cuban arts and culture in Havana and it comes alive with frenetic rumba music every Sunday around noon.
The crowds gather to listen to the music, but the street is a visual feast for the eyes, too. Every available surface from ground to rooftops are covered with vivid murals and sculptures dedicated to the Afro-cuba religion of Santeria, a mix of West African, Native and Roman Catholic traditions.
As day fades to night, we head back to Habana Vieja to experience the city after dark.
Our local guide, Claudia, takes us on a walking tour that passes through several plazas and then we head to dinner at La Bodeguita del Medio, one of the most famous restaurants in Havana. Since it opened in the 1940s, the restaurant has been frequented by famous poets, musicians and authors like Chile's Pablo Neruda, singer Nat King Cole and author Ernest Hemingway. It's also rumored to be birthplace of the mojito, so we naturally want to give it a try.
The bartender muddles together granulated sugar, fresh lime juice, sparkling water an mint leaves in the glass, then tops it off with a pour of Havana Club rum. One mojito after another passes through his hands before passing through our lips.
But there's live music to keep us entertained. As the eclectic group plays, the music spills into the street, where people are gathered to dance and listen.
We end the night at San Carlos de La Cabaña, the fort that guards Havana's harbor. During colonial times, officials would fire a cannon to announce the closing of the city gates which were designed to protect against pirate attacks. At 9 p.m. every night, people gather to watch the Cannon Ceremony — called the Cañonazo — which is performed by actors in full military garb.
We're going out with a bang, but stay tuned for the next episode, when we'll be heading to Trinidad on Cuba's south coast.