The art of living in Santa Fe de Antioquia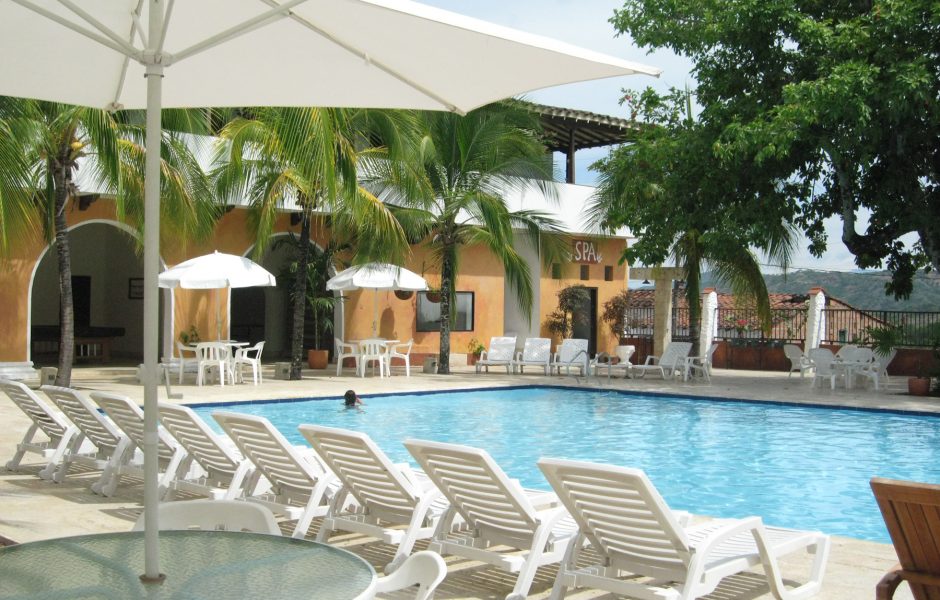 Santa Fe was the original capital of the state of Antioquia before it moved to Medellin, a couple hours south.. The Lonely Planet describes it as a weekend escape from the city, but doesn't say much else about it other than the tourist information center can provide a list of local artisans, whose studios can be visited. I'm in.
Getting there is half the fun. Medellin's Puerto del Norte bus terminal is lined with rows of bus companies offering jouneys both near and far, but none of the seem to post a schedule or their destinations. Instead, we have to listen for employees rattling off towns and cities so fast that you would think they were auctioneers.
We finally find a bus heading to Santa Fe and we head out of town, climbing up out of the valley and wind through the mountains. After passing through South America's longest tunnel, we find ourselves in a different landscape. The temperature on this side of the mountain is at least 10 degrees warmer, and the steep terrain is covered with banana trees.
When we arrive in Santa Fe, we are dripping with sweat. We find a covered table on the main square and sip on cold beverages. I could sit here all day. Other than restaurants and a few handicrap stalls, nothing seems to be open for business (including the tourist information center). Colombians take Mother's Day weekend very seriously, it would seem.
A disc jockey, who has set up in the shade of a palm tree, tells whomever is listening not to forget to get mom something special. "He just said something about getting her underwear," says Chris, who is not going to take the guy's advice. He's already got his mom covered.
We finally muster the strength to walk around the town, which was founded in the 16th century. The town has look the same for the last few hundred years, too. A few gentlemen sitting around on park benches could have been around then, too.
Without a plan or a list of artisans to visit, we step into the air conditioned lobby of a boutique hotel, and don't want to leave. I'm convinced that I should have a massage — it sounds like a great alternative to being outside. The massage therapist has an opening after lunch.
Mari arrives on time with her daughter, Ambar, who spends the time splashing around in the hotel pool. In the back corner, the stand-alone spa is awash in pure white, punctuated by green palms in the corners of the room. Later I found out that Mari's partner is an interior designer, who also tranformed the hotel lobby into an inviting space with warm, honey-colored walls, antiques and plants.
As Mari preps the space, we start chatting. I understand her Spanish incredibly well (the vernacular Colombian pronunciations have been a challenge). It turns out she lived in Peru at the same time I did and she also had many English-speaking friends there, which explains her patience as I try to spit out Spanish.
After a fantastic massage that incorporated accupressure, she handed me a fresh floral beverage and we chatted more. In the end, she invited Chris and to her home only a few blocks away in the historic center of town. Even though it was getting to be late in the day, I told her we'd love to see it, if only for a few minutes.
The house felt more like a commune, with mattresses and hammocks spread around and the faint scent of marijuana wafting in the air. It was sparsely decorated, she explained, because they had just recently moved in. She opened a door that separated her house from the one next door.
"There's an artist couple living next door, but we all share the space," she says. "But they are out of town this weekend."
Beyond the door, there is an explosion of color. There is art hanging all around the courtyard, in-progress murals of palm trees on the far wall and a mannequin standing in the hall, along with a cast of two-dimensional silhouetted characters.
It dawned on me that my original purpose in coming to Santa Fe was to find artisans. As it turned out, the art found me, but the artisans were still not to be found — they were off celebrating Mother's Day with their families.
Now I'm headed home to do the same.