Historic documents destroyed by retreating insurgents in Mali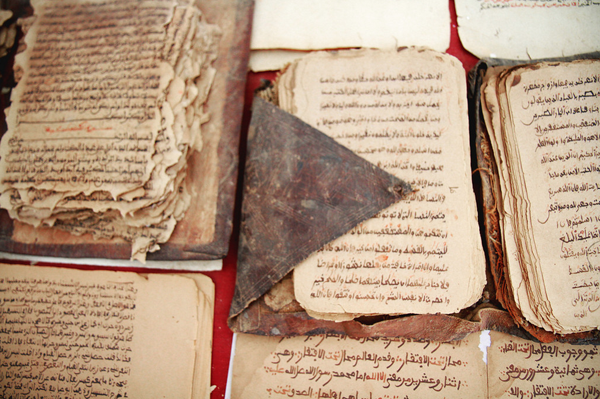 28 January, 2013
Africa
,
Mali
,
travel
africa
,
Al Qaeda
,
Centre de Recherches Historiques Ahmed Baba
,
coup
,
Islam
,
Islamic
,
Mali
,
manuscript
,
rebel
,
texts
,
Timbouctou
,
timbuktu
,
tuareg
,
uprising
,
west africa
Standard
Gone forever are these 12th-century manuscripts from the Centre de Recherches Historiques Ahmed Baba in Timbuktu / Photo by Laura Watilo Blake

These delicate pages of text survived for centuries in the dry desert air in Timbuktu, a remote outpost of the Sahara Desert in Mali, which was once a wealthy trading center. Today, the manuscripts are believed to have been destroyed by fire as French and African forces pushed back into the territory that has been under rebel control for nearly a year.
As they fled, the retreating insurgents set fire to the Centre de Recherches Historiques Ahmed Baba, which housed more than 23,000 Islamic religious, historical and scientific texts from all over the world.
A former employee of the library, who fled before the rebels took the city, explained the importance of the texts to The Guardian newspaper. He said the manuscripts were important because they exploded the myth that "black Africa" had only an oral history. "You just need to look at the manuscripts to realise how wrong this is," Seydou Traoré says in the article.
It's too early to determine the extent of the fire damage, but it's safe to say that a piece of history is gone forever and that realization is heartbreaking.
________
Read about my trip to Timbuktu in 2010: here.