Create-Your-Own Relaxing Ohio State Park Vacation at Deer Creek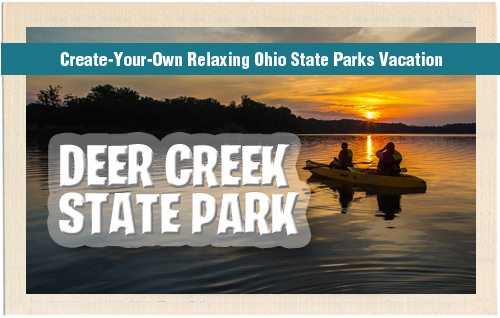 24 June, 2015
Adventure
,
travel
,
trip
,
United States
,
vacation
adventure
,
build-your-own
,
Burr Oak
,
choose-your-own
,
create-your-own
,
Deer Creek
,
family
,
Geneva
,
Hueston Woods
,
lodge
,
Maumee Bay
,
Mohican
,
offbeat
,
ohio
,
Punderson
,
relaxation
,
Salt Fork
,
Shawnee
,
State Park
,
travel
,
vacation
,
Xanterra
Standard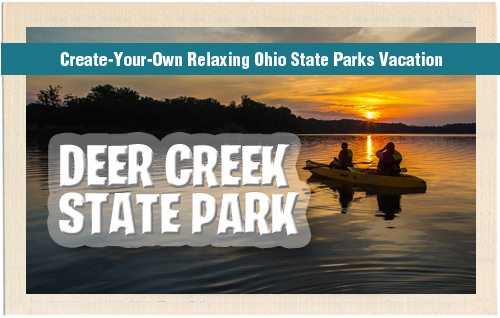 Editor's Note: If you've arrived at this page via an internet search, you're in the middle of a choose-your-own adventure game. If you'd like to play along, please start with "Create-Your-Own Ohio State Park Vacation."
And the winner is: Deer Creek State Park
Wrapped around a lake enjoyed by boaters and fishermen alike, Deer Creek State Park enjoys a quieter pace than some of the other parks, with hiking trails through meadows and woodlands as well as a bridle trail, two-person kayak rentals and a swimming beach. Deer Creek Lake contains saugeye, catfish, largemouth bass and other fish.
While the park only allows waterfowl hunting, the Deer Creek Wildlife area next to the park permits hunting for wildlife including ring-necked pheasants, rabbit and deer in specific areas. Birders can look for great blue herons or one of several hawk species at nearby Stage's Pond State Nature Preserve that contains some shorter trails.
The lodge sits just steps away from the banks of the lake and there's an abundance of critters that come right up to your balcony or patio. Lacking a natural fear of humans, the resident raccoons, groundhogs and feral cats sniff out handouts from guests, although it's preferred that you not feed the animals. They are fun to watch, though.
Ready to book this adventure?
Call 800-282-7275 or visit ohiostateparklodges.com for reservations and travel packages. Please note that there are four lodges at the following state parks are not included in this round-up of Ohio state parks: Burr Oak, Geneva, Hueston Woods, Shawnee.
For more information about the parks, head over to the Ohio Department of Natural Resources' website. And don't forget the Official Ohio State Parks & Outdoors Guide mobile app.
Wanna start over?
Go back to "Create-Your-Own Ohio State Park Vacation."
________________________________________________
Additional reporting by farflungtravels.com contributor Anne Tipton.