Create-Your-Own Offbeat State Park BigFoot Vacation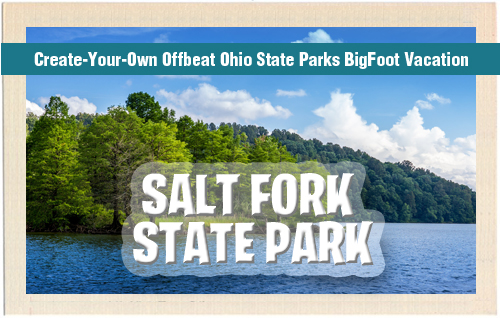 25 June, 2015
travel
adventure
,
build-your-own
,
Burr Oak
,
choose-your-own
,
create-your-own
,
Deer Creek
,
family
,
Geneva
,
Hueston Woods
,
lodge
,
Maumee Bay
,
Mohican
,
offbeat
,
ohio
,
Punderson
,
relaxation
,
Salt Fork
,
Shawnee
,
State Park
,
travel
,
vacation
,
Xanterra
Standard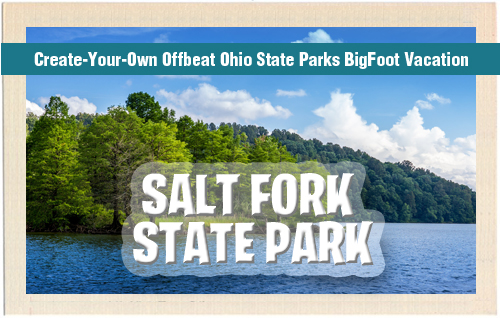 Editor's Note: If you've arrived at this page via an internet search, you're in the middle of a choose-your-own adventure game. If you'd like to play along, please start with "Create-Your-Own Ohio State Park Vacation."
And the winner is: Salt Fork State Park
With a group of people gathered around a fire pit at Salt Fork State Park Lodge, Ohio State Park naturalist Cindy Coss tips her head back and lets out a blood-curdling cry to imitate a Big Foot call. A few moments later, there's a response in the distance, followed by some laughter.
Not everyone believes in the existence of Sasquatch, but those who are serious come to Salt Fork, which hosts two specialty conferences during the year that includes presentations and vendors. Since 2005, the Ohio Bigfoot Conference has drawn in crowds, while the annual Creature Weekend, also known as the Cryptozoology Conference, looks at the existence of animal species that are disputed or unsubstantiated.
Ohio's largest state park, Salt Fork Lodge is home not only to the numerous white-tailed deer, scarlet tanagers and other wildlife that populate its forested hills and valleys, but reputedly also to Bigfoot. For those who visit for the natural beauty alone, draws include a spacious beach, two boat marinas, and hunting. For history buffs, nearby Coshocton's Roscoe Village, a restored early canal town, offers a glimpse into the early 1800s.
Ready to book this adventure?
Call 800-282-7275 or visit ohiostateparklodges.com for reservations and travel packages. Please note that there are four lodges at the following state parks are not included in this round-up of Ohio state parks: Burr Oak, Geneva, Hueston Woods, Shawnee.
For more information about the parks, head over to the Ohio Department of Natural Resources' website. And don't forget the Official Ohio State Parks & Outdoors Guide mobile app.
Wanna start over?
Go back to "Create-Your-Own Ohio State Park Vacation."
________________________________________________
Additional reporting by farflungtravels.com contributor Anne Tipton.