Open season for aurora hunting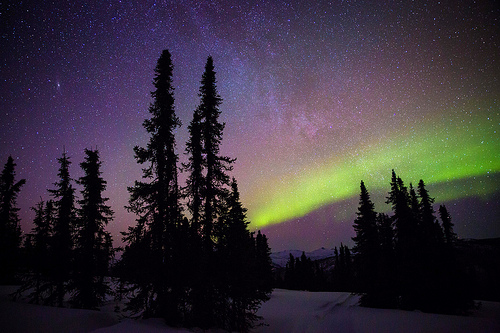 9 September, 2013
Adventure
,
Alaska
,
Fairbanks
,
Photography
,
travel
alaska
,
aurora borealis
,
cold
,
night
,
northern lights
,
photography
,
Ronn Murray
,
sky
,
solar flares
,
tours
Standard
Aurora Borealis in September? "Absolutely," says Alaska-based photographer Ronn Murray. "Based on my experience and other pretty hard evidence, the equinoxes produce some of the strongest auroras. We get great shows in late September and its a great time to visit Alaska, because the weather hasn't gotten really cold yet."
Murray began chasing the Northern Lights after moving to Fairbanks five years ago. "I knew the aurora borealis was here," he says. "The first time I went out to photograph it, I was instantly hooked, but I stayed in the car because I was underdressed for the conditions."
As he learned the skills needed for photographing under the harshest conditions, he picked up lots of tips and tricks. Now, he's launched aurora borealis photography tours for others who want to hone their skills in less time. The tours, starting at $295, are offered between September and April, when the lights are most visible.
Fairbanks is one of the best places in the world to catch a glimpse of the undulating ribbons of light because of the frequently clear skies and a location within what's known as the auroral oval. According to the visitors bureau website, "if you stay three nights in Fairbanks, you have an 80 percent chance of seeing them." And this year promises to be a doozie. NASA scientists have predicted that solar flares and accompanying geomagnetic disturbances will peak in 2013, making this season an ideal time to witness the phenomenon.
For many visitors, just seeing the aurora borealis isn't enough. That's where Murray comes in. As an experienced aurora chaser, he can help guide visitors to the best spots for viewing and help capture the aurora in its best light.
Six things you should know about the aurora borealis photography tour:
1. "We're 75% accurate." While the Geophysical Institute forecast is considered the industry standard for aurora prediction, Murray doesn't rely on it. "There's really no way knowing shy of two to three days before," he says. "I looks at sunspots, solar wind speeds, particle density and magnetic fields." There's still a chance the lights won't make an appearance, but at least you can still walk away with new photography skills you can use when the Northern Lights are on.
2. Go dark, or go home. To get a good view of the lights, the trick is to get away from light pollution. The best spots are usually a 30- to 40-minute ride away from Fairbanks. It's a long ride back to the city at 4 a.m., which makes a tour even more appealing.
3. Gear up. While it's possible to rent camera equipment in Alaska, Murray suggests renting gear from home to ensure availability. A DSLR camera with a good wide-angle lens with the largest possible aperture is best. Don't forget a tripod, extra batteries and a headlamp or flashlight. You'll also need a large ziploc bag to prevent the camera and lens from fogging up in extreme temperature shifts.
4. Stay warm. Plan on wearing several layers of clothes since temperatures can dip well below the freezing mark in the heart of winter. Look for inner and outerwear rated to -40 degrees Fahrenheit and buy chemical handwarmers to tuck into gloves and boots. Forget something? Head to Big Ray's in downtown Fairbanks. A pair of Baffin's Tundra snow boots ($109.95) are your best friend.
5. Make new friends, but keep them at a distance. Photography can be a lonely pastime. The photography tours provide opportunities to meet other like-minded individuals, but they can also be your worst enemy when photographing the aurora borealis. Do your best to be respectful of other people by keeping your distance when photographing the Norther Lights. You'll be everyone's best friend if you cover the red light and LCD screen on the back of your camera.
6. Experiment with composition and lighting. Pointing your camera at the sky is not good enough. Look for interesting scenery to add interest to the photo. "I like to look at my aurora photography the same way I'd approach doing a landscape," says Murray. "It's just like sunset photos. Adding a beautiful landscape makes it a magical image." Some other ways to get interesting images is by painting with light to illuminate a foreground subject. One of Murray's specialties is shooting aurora portraits using a long exposure and a flashlight, which he does for every tour participant. They make great souvenirs, he adds.
Aurora Time Lapse Photography by Laura Watilo Blake, farflungtravels.com