How to get to San Marino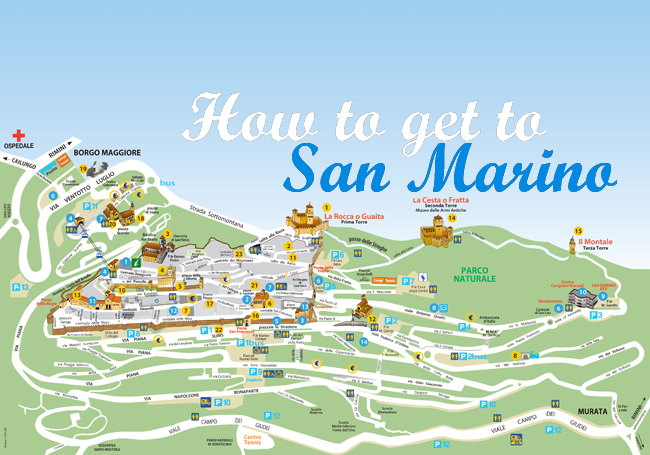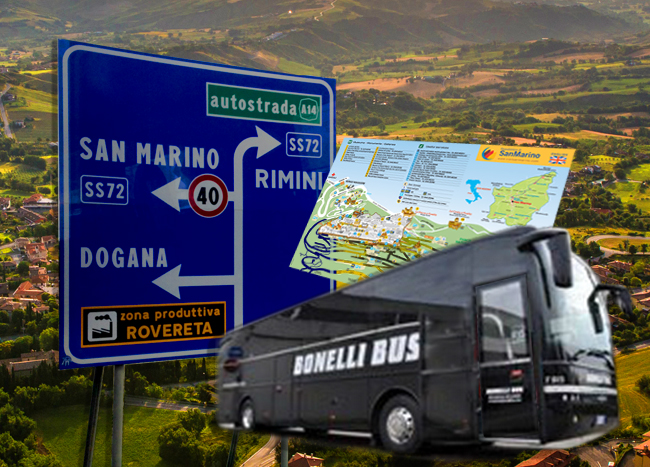 Have you ever heard of San Marino? Most people haven't, but it got on my radar thanks to a slight obsession with geographically unique places. San Marino stands out for several reasons. Not only is it the third-smallest country in Europe, but it's also completely landlocked by Italy and boasts of being the oldest republic in the world. I couldn't resist checking it out during a recent visit to Italy. It seemed easy enough to get to, but as it turned out, getting there was half the battle.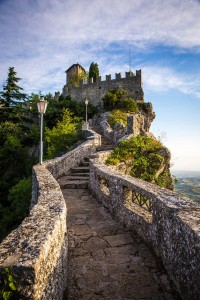 The full name of this small land-locked country is "Most Serene Republic of San Marino," but my first introduction to it is anything but peaceful. The Bonelli Bus bound for San Marino (9 euros roundtrip) pulled up across the street from the Rimini train station (the closest rail connection) and everyone at the stop swarmed around the door, pushing and shoving to get on board. I have never seen anything like it. While most of the these folks were heading to the republic for the day, I was in full backpack mode — front and back laden with 60 pounds of gear — having just arrived from Venice (only 2 1/2 hours away by train) to stay overnight there. Every time I got close to the bus door, I was shoved out of the way by an opposing force. Finally, a couple girls took pity on me and pushed until my front pack cleared the entrance and there was no choice but to let me on. I climbed up the stairs only to be scolded by the bus driver because I should have put my pack in the luggage compartment outside (yeah, right).
He tried to send me off the bus, but I knew the crowd wouldn't let that happen. Even though I knew it was futile, I turned and looked behind me. I wish I had a camera at that moment to capture the scene of ravenous zombies clamoring for a spot on the bus as if their lives depended on it — their gazes fixed angrily on me. The driver relented and I found a seat close to the rear exit, where I could stash my bag without taking up another seat or blocking the aisle.
I could tell that man next to me was amused by the entire scene and I was surprised when he started speaking in perfect English with no accent (he had spent many years living in Canada). "It's like the Russian bread lines in the 1980s all over again," he said, pointing out that most of the tourists that visit San Marino are from Russia. "The bus driver is shouting expletives at everyone and trying to get them to form an orderly line."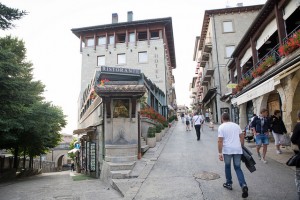 Once everyone was on board and packed tightly on the bus, we headed away from the Mediterranean coastline toward San Marino's old town, perched high atop Mount Titano, approximately 50 minutes away. We arrived at Parking Lot 1, just below the historic center. From there, it's an uphill climb to reach Hotel La Grotta, a small inn tucked in one of the town's narrow alleyways. On the way, I passed souvenir shops selling food, clothing, leather goods and all kinds of assault weapons (apparently San Marino has some of most unrestricted gun laws in Europe).
After checking in, I finally found some serenity in San Marino when I collapsed onto the bed and fell asleep in the middle of the day, only to emerge a few hours later after most of the day trippers had gone and when the light was better for photography.
Even though the trip to San Marino was a challenge, there's plenty of reasons to visit San Marino. Read: "8 Reasons to Visit San Marino"