Rap jumping in the urban jungle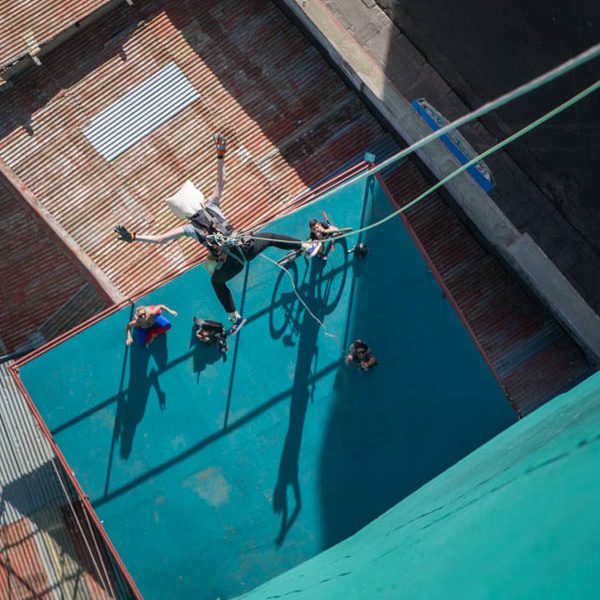 18 March, 2014
Adventure
,
Bolivia
,
La Paz
,
South America
,
travel
#ttot
,
abseil
,
adventure
,
Bolivia
,
Bolvia
,
building
,
extreme
,
Hotel Presidente
,
La Paz
,
Latin America
,
Laura Watilo Blake
,
rap-jump
,
rap-jumping
,
rappel
,
South America
,
sport
,
travel
,
Urban Rush
Standard
This adrenaline rush will get your Spidey senses tingling
[flagallery gid=6]
My heart is pounding and my palms are sweating as I step to the open window on the 17th floor window of Hotel Presidente in the center of La Paz, Bolivia. Under any other circumstances, I would be enjoying the incredible views over the Plaza de San Francisco in city center. A few hours ago, I was standing down there admiring the 16th century basilica, which is covered with ornate carvings, including a figure chewing coca leaves, a traditional practice Bolivians have done for centuries to cure minor ailments and provide an energy boost.
My body doesn't need any additional stimulant at the moment. I'm about to climb out of the aforementioned window and abseil face-first 164-feet down the side of the hotel using a rope and harness — a technique known as "rap jumping." Developed in the last 20 years by the Australian special forces and perfected in blockbuster Hollywood action films, rap jumping has quickly become a popular activity geared toward everyday adrenaline junkies. The La Paz experience is made possible by Urban Rush, founded a couple of years ago by New Zealander Alistair Matthew, the mastermind behind Gravity Assisted Mountain Biking, which leads daredevils on trips along the Bolivia's "Death Road."
The risk I'm about to take is minimal, I'm told. "We've only had one fatality today," the instructor jokes as I'm suiting up in my costume and harness. Yes, I said costume. Thrill seekers can perform the stunt as a Superhero like Spider Man or Cat Woman; Super Mario, the most famous video game character in the world, or his right-hand man Luigi (my pick); or even bacon, the super food so loved by my Canadian cohort whom I've just met here. She's part of the group that's gathered together for the safety demonstration and practice on a six-foot-high wall in the room.
Admittedly, my practice run is a big fail, and my technique atrocious until I try it one more time to get a feel for the one-handed braking system at my hip. Luckily, if I don't get it right during the actual abseil, there's a belayer on the ground and one in the window controlling the back-up rope.
I approach the open window and glance down at the Plaza de San Francisco, imagining the ant-like people below are staring back up at the crazy lady about to jump from the 17th floor of Hotel Presidente. I exhale deeply and grip the handle bars on either side of the opening and step onto the ledge.
If you want to get a better sense of what I'm feeling at this very moment, watch the ulcer-inducing moment super spy Ethan Hunt exits a top floor of Dubai's Burj Khalifa in "Mission: Impossible — Ghost Protocol":
I get my cue to begin, but nothing happens. I was wondering what was going on, but then I realized my grip on the brake was so tight, I couldn't move. I open my hand and lean forward until I'm perpendicular to the side of the building and staring at a turquoise-hued landing pad below. As I step toward it, my fixed foot slips and I am dangling upright against the building. I'm painfully aware that someone is taking pictures from above. Really graceful, I think to myself.
It takes a moment to recover and then it clicks. The whole thing is a lot easier if you just loosen up a little bit. Pretty soon, I'm bouncing down the side of the building. When I have about 65 feet left to go, the guide below asks me to "Let go!" and push off from the building. But, my strong survival instinct wasn't having it. I had to think about it for a second or two before I release the grip on the rope altogether and plummeted at warp speed for final six stories. It was the real-life version of a Super Mario video game when the character gets a power-up giving him special abilities to fly.
But just like that, it was game over (but there's a discount if you want to go again).
Urban Rush
Address: Hotel Presidente, Potosí 920, La Paz, Bolivia
Hours: 1 to 5 p.m. daily
Cost: 150 Bolivianos (approximately $20)
More info: www.urbanrushbolivia.com