Other-worldly landscape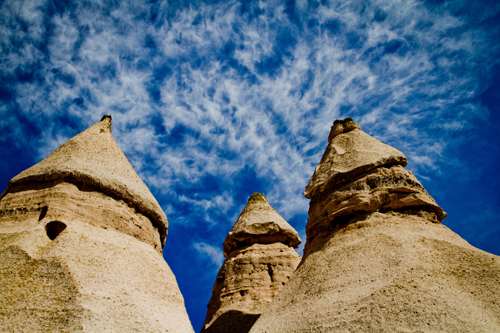 17 September, 2013
Cochiti Pueblo
,
Hiking
,
New Mexico
,
Photography
,
travel
Canyon
,
cochiti
,
formation
,
Hoodoo
,
Kasha-Katuwe
,
landscape
,
New Mexico
,
photography
,
pueblo
,
rock
,
santa fe
,
South West
,
southwest
,
Tent Rocks
Standard

There are certain places in the world that look like they should be the setting for a Sci-Fi movie. Kasha-Katuwe Tent Rocks National Monument in New Mexico is a bit like that. The unique landscape is punctuated with cone-shaped hoodoos of soft pumice and tuff, capped with pedestal rocks. The name Kasha-Katuwe, which means "white cliffs," derives from the traditional Keresan language of the Cochiti Pueblo, where the formation are located.
The best way to see them is by weaving through the 1.5-mile Canyon Trail, which takes you through narrow slot canyons before climbing 630 feet to the top of a mesa with views of the mountains surrounding the Rio Grande Valley.
How to get there: From Santa Fe, take the Cochiti Pueblo Exit 264 off I-25 onto NM 16. Turn right off NM 16 onto NM 22, and follow the signs to Cochiti Pueblo and the national monument.