Kansas City's Cool Neighborhoods and Hotels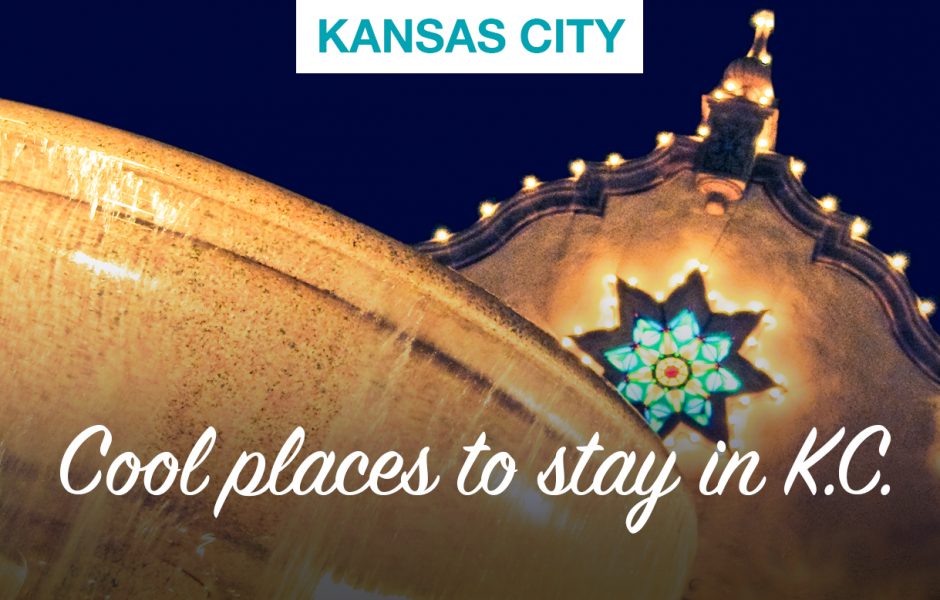 Recently I had the opportunity to write about cool boutique hotels in Kansas City for Trivago's Room 5. It was a great assignment because even though I am from the area originally, I've rarely been able to see the Missouri city through a traveler's eye.
Growing up in Kansas City, I don't think I ever stayed at an area hotels, but that doesn't mean I didn't frequent them. My favorite was the Westin Crown Center. At the risk of being barred for life from this hotel, I played hide-and-seek there a few times after dark with high school friends a long, long time ago. My favorite hiding spot was in the kid's ball pit next to the pool.
The best thing about this hotel besides great hiding spots was the amazing waterfall, surrounded by lush greenery under a glass ceiling. The giant rocks over which the water falls was uncovered while preparing the site for the hotel's construction in the 1970s. Instead of removing them, the builders decided to incorporate them into the design. The resulting waterfall is fitting, especially since Kansas City is known as the "city of fountains."
While the Westin Crown Center is still a popular hotel choice, I was tasked with uncovering smaller boutique properties for Trivago. I discovered quite a number of amazing choices for Kansas City visitors and there are more set to open yet this year.
While you can read more about them at Room 5, here are the top neighborhoods for finding cool boutique hotels:
The Country Club Plaza: This is hands-down, the must-visit spot in Kansas City. The whole neighborhood, called "The Plaza" by locals,  is modeled after the Spanish city of Seville, one of KC's sister cities. There are lots of shopping, dining and entertainment opportunities within the walkable blocks of the architecturally rich neighborhood.
Downtown / Power & Light District: Wow. The city has gone through a major transformation in the last two decades. Seedy massage parlors have moved out, and breweries, burgers and barbecue have taken over. There's even a new streetcar that zips people across town to visit other parts of the city.
Crossroads / Crown Center: I used to work at a professional photo processing lab in this burgeoning art-forward neighborhood. Even in those days, artists and photographers had taken up residence, but now it's exploding with art galleries and independent eateries and bars. Time a visit during First Fridays when the neighborhood really shines. Nearby, Crown Center is a Kansas City institution and home to another art-centered business: Hallmark Cards.
Westport: In the early days, this neighborhood was the only thing that stood between civilization and the Wild West as settlers loaded up with provisions before the long journey on the Oregon, Santa Fe and California wagon trails. In the 21st century, it has lively nightlife scene and a theater for arthouse movies.
If Kansas City has never been on your radar, it should be. I highly recommend paying my hometown a visit. You're sure to have a comfortable stay.