Where to go in Ohio for a great weekend getaway
7 December, 2017
Adventure
,
travel
,
trip
,
United States
,
vacation
amish country
,
berlin
,
cincinnati
,
Cleveland
,
columbus
,
dayton
,
destinations
,
getaway
,
hocking hills
,
logan
,
marietta
,
ohio
,
oregon
,
travel
,
weekend
,
yellow springs
Standard
The American West has cowboys; New York has the Statue of Liberty. While, there's no iconic symbol that defines the Buckeye State, O-H-I-O does have pride in what it does have: idyllic Great Lakes beaches, professional sports teams, top-rated amusement parks, urban adventures in the three Cs (Cleveland, Columbus and Cincinnati) and the world's largest Amish community. With a healthy dose of curiosity and a keen sense of adventure, it's easy to uncover the pride of Ohio. It can be found everywhere, from hand-poured Amish candles to the legacies of its homegrown heroes, such as the Wright Brothers.
I spent a good portion of 2017 traveling around the Great Lakes state doing research and photography for the forthcoming book "Ohio: A Photographic Journey." You can read some of my top picks for weekend getaways over at Trivago. It was hard to limit the selection to just 10 because there are so many unique and wonderful places to visit in Ohio.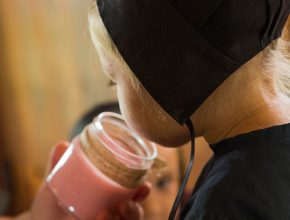 For one, Ohio's Amish Country is photographer's dream. At every turn, you'll find picturesque rural scenery punctuated by horse and buggies clip-clopping past barns and fields of hay. But photographing Amish people can be challenging, since they follow the biblical commandment not to "make unto thyself a graven image."
During a tour with La Vonne De Bois from A Taste of the Backroads, I was browsing a selection of candles at a home-based Amish shop near Berlin, I quickly snapped a candid photo of the shopkeeper's young daughter from behind as she smelled one of her mom's creations. A sliver of sunlight streamed through the window of the otherwise darkened candle shop, rimming the side of the girl's face as she took a whiff. When I asked her mother if it might be okay to publish the photo, she said, "I think so, but you'll have to talk to the Bishop."
This one brief moment led me on a path of discovery about the difference among Old Order Amish. And the road — and tour — led directly to Bishop John Yoder's buggy shop about seven miles north of Berlin (pronounced BUR-Lyn). As bishop, he had been selected by his church to be a spiritual adviser, disciplinarian and the one to regulate what aspects of the outside world are considered acceptable among his church members.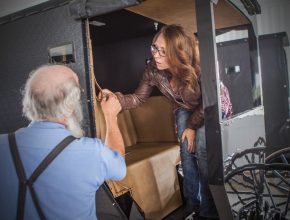 After I received his blessing to use the photo of the little girl, he showed my around his showroom and workshop, where he makes custom buggies. He directs me to a top-of-the-line model with all the bells and whistles, including battery-powered interior lights and headlights, plus a pneumatic horn "to impress the ladies." But, the buggy hadn't met the approval of customer's Bishop, who thought the interior tan finish — over the standard black — was taking things too far. Meanwhile, the most conservative Amish order bans even the use of the orange, reflective safety triangles, which have been proven to prevent accidents with motor vehicles.
Despite some resistance to change, Amish lives are anything but simple. They have to navigate the complexities and differences within their own culture, not to mention how they interact with the outside world. They are just like the rest of us with hopes and dreams, worries about the future and how to keep their children safe. However, it would have been impossible to know all of this without first setting foot in an Amish woman's candle shop and respecting her strong beliefs and proud traditions, no matter how different they may be from my own.
Want to visit Amish Country or other top spots in the state? Then head over to Trivago's Room 5 blog right now to read about my favorite destinations and travel tips and hotel recommendations for each place:
Weekend Getaways in Ohio: From Amish Ambiance to Hippy HauntsAny of the following weekend getaways in Ohio will be worth your while to better understand this incredibly diverse state.