Where to find organic products in Lima, Peru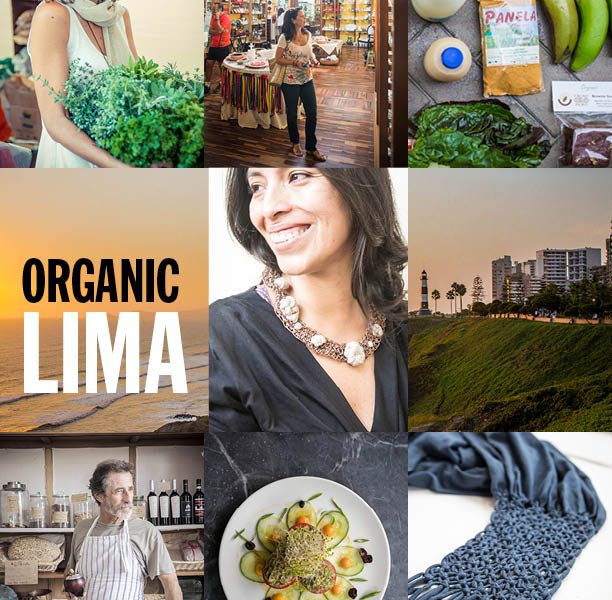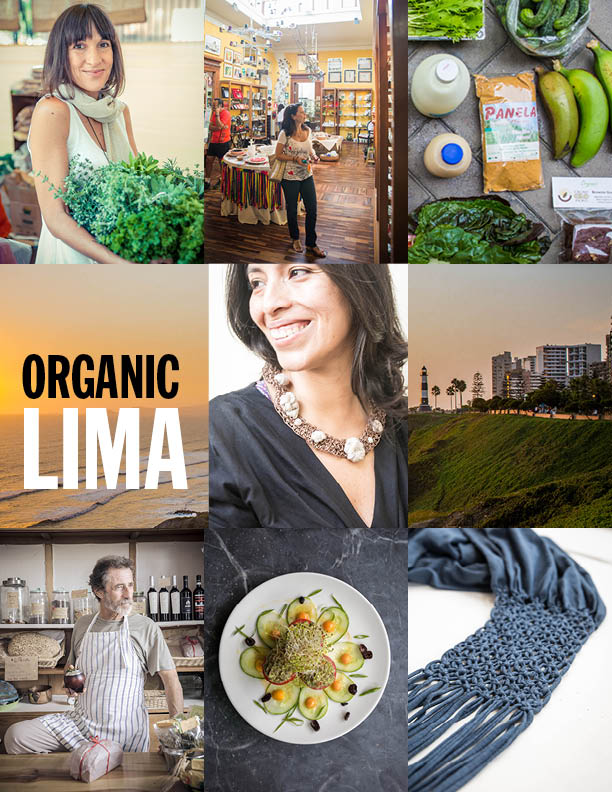 Lima used to be a quick stopover for visitors on their way to Machu Picchu, but in the last decade, the Peruvian city has transformed into the gastronomic epicenter of South America. "Last year, thousands of people came to Lima just to eat," says Lucas Montes de Oca, the co-founder of The Lima Gourmet Company, which offers culinary tours of Peru's capital city. "It's truly become a destination by itself."
A host of innovative and influential chefs, such as Rafael Osterling and Gastón Acurio, have helped popularize the bold, complex flavors of Novandina cuisine. Lima is ground zero for the original fusion food, which combines European cooking techniques with Incan, Spanish, Italian, African, Chinese and Japanese influences that have shaped this melting-pot coastal city for centuries.
A food tour is great way to sample some of the culinary highlights of the city, but then take the time to delve into this culturally rich city with our guide to sustainable culture, crafts, cuisine and carousing in the city's hippest neighborhoods of Miraflores and Barranco.

Lunch a la Limeña
A few blocks away from the Pacific Ocean, among a cluster of trendsetting cevicherías in an area once lined with auto repair shops, Chef Rafael Osterling's El Mercado buzzes with activity. Nearly every seat of the open-air eatery is taken — packed with businessmen, socialites and tourists noshing on ceviche, cooked only by marinating the fresh catch of the day in a tangy concoction of fresh-squeezed lime juice, onions and ají chilies. As the unofficial ambassador of Peruvian cuisine, ceviche is no doubt served in some of the world's finest restaurants at dinner, but no Limeño would dream of having ceviche or tiradito, its Asian sashimi-style cousin, after midday. After all, the fish should be eaten soon after the fisherman have reeled it in.
El Mercado, Hipólito 203, Miraflores, rafaelosterling.pe
Sustainable Souvenirs
Upcycling is a relatively new concept in Peru, so when NunaLab's Ursula Alvarez first presented textile artisans with her ideas for creating fashionable accessories and home goods using non-traditional raw materials, they were dubious. "They said, 'You are crazy, señorita,'" Alvarez explains. "But now, they trust me." The company's efforts in sustainable production led to an award from the Peruvian Ministry of Environment in 2011. Using anything from phone wires, cords and shoelaces to T-shirt remnants and edge trims from Mylar chip bags, NunaLab works with 80 women to produce well-crafted finished goods, such as scarves, necklaces, handbags and pillows that are sold in the U.S. and Europe. In Lima, looks for them at Manos Peruanos, a private museum that displays handicrafts from all over Peru and sells high quality handcrafted products from pottery to furniture.
Manos Peruanos, Jr. Comandante Juan Moore 199, Miraflores, +51 1 430-0901 (by appointment only)
Dédalo is as much a museum as it is a gift shop. Housed in a stately mansion in Barranco, it has room after room packed with unique and modern handmade arts and crafts from Peruvian artists, such as
Vacide Erda Zimic
, who makes jewelry and hand bags using felt pieces from recycled hats traditionally worn in the Peruvian highlands. There's also a café in the center courtyard for refueling after shopping to your heart's content.
Dédalo, Paseo Saenz Peña 295 Barranco, http://dedaloarte.blogspot.com/
Caffeine Fix
Peru leads the world in the export of organic coffee, and yet finding anything other than instant coffee in the country can be a challenge. Sure, there's a Starbucks across from the main plaza in the bohemian Barranco neighborhood, but those in the know walk 150 feet away further south to La Tosaduría Bisetti. The coffee shop specializes in organic Peruvian-grown, fair-trade coffee sourced from the Andean highlands. The beans are carefully sorted by size and color to ensure the highest quality roast, done daily in the company's on-site laboratory. Sip cappuccino or espresso surrounded by ever-changing rotation of artwork inside or al fresco in the secluded garden patio, which hosts a movie under the stars at 7 p.m. on Tuesday nights.
La Tosaduría Bisetti, Pedro de Osma 116, Barranco, cafebisetti.com
Spa Ritual
Relax and rejuvenate at Zest Spa, located on the 11th floor of the Belmond Miraflores Park Hotel overlooking the Pacific Ocean from its cliff-top perch. Ranked one of the most luxurious spas in Lima, Zest's treatments incorporate a line of certified-organic and cruelty-free skincare products created exclusively for Belmond, formerly Orient-Express Hotels. Paris-based Aïny sources rare plants from the Andes and Amazon that are harvested at their peak under the guidance of knowledgeable indigenous healers. For centuries, shamans have administered protection and healing rituals using the abundant medicinal plant life found in the region. The botanicals selected for Aïny formulas, such as sacha inchi and ungurahua, help repair, protect and moisturize the skin. Zest Spa, Av. Malecón de la Reserva 1035, Miraflores, miraflorespark.com
Popular Paseo
Dusk is an ideal time to stroll along El Malecón, the oceanfront park system that stretches along a cliff above Miraflores' Pacific coastline. It's a popular place for running, cycling and rollerblading along the six-mile paved path, but there are plenty of people that just sit back and enjoy the expansive view at sunset. The malecón is also the jumping off point for 10-minute paragliding adventures that cost 60 soles (approximately $20). Tickets can be purchased at the kiosk just north of the Parque del Amor.
Healthy Hangouts
Visiting a market in a foreign country is one of the best ways to interact with the locals and discover exotic fruits, vegetable, herbs and grains. The best place to get organic produce is the Biofería de Miraflores, held from 8 a.m. to 2:30 p.m. every Saturday. "I like to come here and grab something I've never used before," says Emily Shaw, founder of
Panacea Peru
, a line of wellness products from organic essential oils to raw juices. "You can find a lot of things you wouldn't find outside of Peru." As she goes from stall to stall filling her bag along the way, she stops to sample the Chicha de Jora, a fermented corn drink that tastes a lot like kombucha, but has been prepared throughout the Andes for millennia. "There's so much good stuff here," Shaw adds. "I can't be trusted."
Bioferia de Miraflores, Parque Redacto No. 2, Miraflores, facebook.com/BioFeria
Henry Vera can only be described as a food artist, who dreams up artfully prepared vegan and vegetarian dishes without a recipe to serve at El AlmaZen, the organic eatery he founded with his wife, Mariella Matos. There's only a few choices on the daily menu, but choosing from selections like quinoa tabouleh, mango ceviche or stuffed tomatoes isn't easy. The restaurant recently opened a gourmet food shop on the second floor with products from organic food producers, from eggs and goat cheese to fresh-baked bread and chocolate truffles.
El AlmaZen, Recavarren 298, Miraflores, facebook.com/el.almazen
Stay
Belmond Miraflores Park Hotel reopened in April after an extensive four-month refurbishment that includes a new restaurant and bar, an updated lobby and the creation of three floors of club-level suites. The sophisticated hotel boasts a sensational ocean views from its cliff-top location in the heart of Miraflores, close to shopping, restaurants and nightlife. Prices start at $320 per night.
Belmond Miraflores Park Hotel, Av. Malecón de la Reserva, 1035 Miraflores, 800-237-1236, miraflorespark.com

Travel Tip: Although Peru's peak tourist season runs from May to August, the sun-drenched summer months from December to April are the ideal time to visit Lima itself. Come May, the coastal city is enveloped in a blanket of clouds, dense sea mist and fog, known locally as garúa.