Create-Your-Own Offbeat State Park Haunted Vacation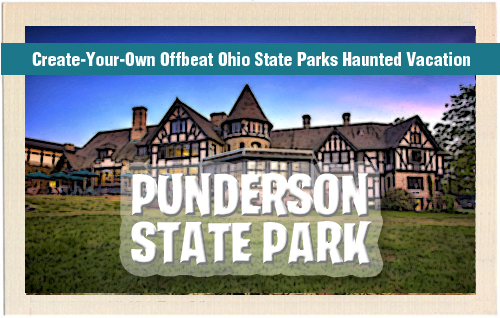 25 June, 2015
Adventure
,
travel
,
trip
,
United States
,
vacation
adventure
,
build-your-own
,
Burr Oak
,
choose-your-own
,
create-your-own
,
Deer Creek
,
family
,
Geneva
,
Hueston Woods
,
lodge
,
Maumee Bay
,
Mohican
,
offbeat
,
ohio
,
Punderson
,
relaxation
,
Salt Fork
,
Shawnee
,
State Park
,
travel
,
vacation
,
Xanterra
Standard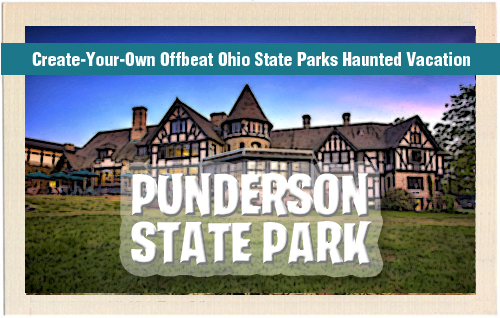 Editor's Note: If you've arrived at this page via an internet search, you're in the middle of a choose-your-own adventure game. If you'd like to play along, please start with "Create-Your-Own Ohio State Park Vacation."
And the winner is: Punderson State Park
Wrapped around Punderson Lake in Newbury, the 741-acre Punderson State Park offers visitors the typical serene park experience, replete with fishing, swimming, hiking and even a 18-hole public golf course. But those staying at the English Tudor-style lodge may get an understated version of Ghostbusters. Built in 1929 by Detroit businessman Karl Log, who died before it could be finished, the tastefully designed manor house is home to the usual cold drafts, moving items and occasional apparitions that sends some people running scared.
Burton Village Mayor Nick Fischbach, formerly Geauga County's chief park ranger, used to laugh about the ghost stories, until he and another ranger had an unusual encounter in the second-floor hallway. The temperature dropped so much they could see their breath. A woman's laugh pierced the hallway. "After the laughter stopped," he says, "it warmed up."
Some people believe long-ago drownings in Punderson Lake are responsible for the ghosts. Others say the lodge is haunted by children who died in an 1885 fire that destroyed the Wales Hotel on the other side of the lake. Then there are unsubstantiated rumors of suicide are attached to both Long and Lemuel Punderson, the original land owner.
Held by the state since the late 1940s, the lodge consists of the original manor house along with a newer wing. Most of the paranormal events have reportedly taken place in the older sections since the 1970s, especially in the Windsor Suite, one of its most elegant rooms, and the spiral staircase found near the resort's main lobby.
Ready to book this adventure?
Call 800-282-7275 or visit ohiostateparklodges.com for reservations and travel packages. Please note that there are four lodges at the following state parks are not included in this round-up of Ohio state parks: Burr Oak, Geneva, Hueston Woods, Shawnee.
For more information about the parks, head over to the Ohio Department of Natural Resources' website. And don't forget the Official Ohio State Parks & Outdoors Guide mobile app.
Wanna start over?
Go back to "Create-Your-Own Ohio State Park Vacation."
________________________________________________
Additional reporting by farflungtravels.com contributor Anne Tipton.