Create-Your-Own Adventurous Ohio State Park Forest Adventure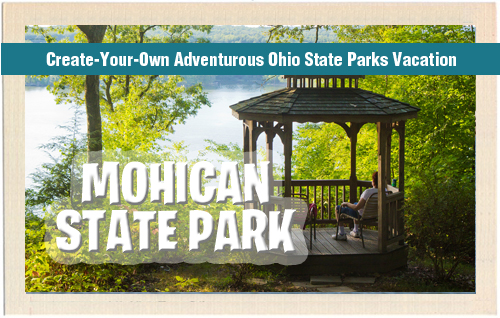 25 June, 2015
travel
adventure
,
build-your-own
,
Burr Oak
,
choose-your-own
,
create-your-own
,
Deer Creek
,
family
,
Geneva
,
Hueston Woods
,
lodge
,
Maumee Bay
,
Mohican
,
offbeat
,
ohio
,
Punderson
,
relaxation
,
Salt Fork
,
Shawnee
,
State Park
,
travel
,
vacation
,
Xanterra
Standard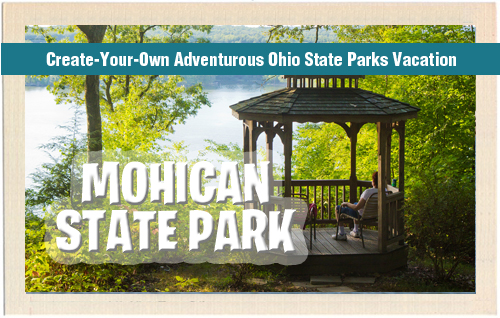 Editor's Note: If you've arrived at this page via an internet search, you're in the middle of a choose-your-own adventure game. If you'd like to play along, please start with "Create-Your-Own Ohio State Park Vacation."
And the winner is: Mohican State Park
Known for its nearby rafting and canoeing and noted mountain bike and running trails, the 1,110-acre Mohican State Park may initially appeal to the more adventurous visitor, though its lodge offers all the usual lodge amenities, including an Olympic-size pool. Next door to the park, the 4,525-acre Mohican State Memorial Forest further expands the opportunities to be outside all day, either on foot, horseback or your trusty mountain bike. A 24.5-mile bike and hike trail — called "wild and serene" by Runner's World magazine — travels through both the park and forest.
The park offers two overlooks for Clear Fork Gorge, more than 300 feet deep in sections and includes stands of hemlock and old-growth white pine, which is a Registered National Natural Landmark. Other activities close to the park include canoeing, kayaking, rafting, tubing and ziplining. Just 9 miles south of Loudonville, Tree Frog Canopy Tours offers zipline canopy tours, including a night tour.
Ready to book this adventure?
Call 800-282-7275 or visit ohiostateparklodges.com for reservations and travel packages. Please note that there are four lodges at the following state parks are not included in this round-up of Ohio state parks: Burr Oak, Geneva, Hueston Woods, Shawnee.
For more information about the parks, head over to the Ohio Department of Natural Resources' website. And don't forget the Official Ohio State Parks & Outdoors Guide mobile app.
Wanna start over?
Go back to "Create-Your-Own Ohio State Park Vacation."
________________________________________________
Additional reporting by farflungtravels.com contributor Anne Tipton.