Can you tuna fish?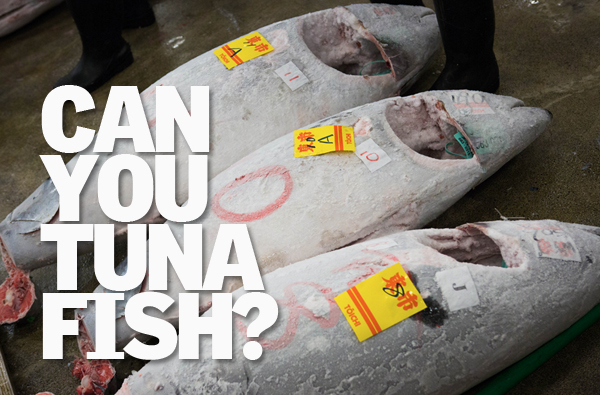 Tokyo's Tsukiji Market buzzes with activity all day long, but to watch the tuna auction in action, you must get up before the sun rises.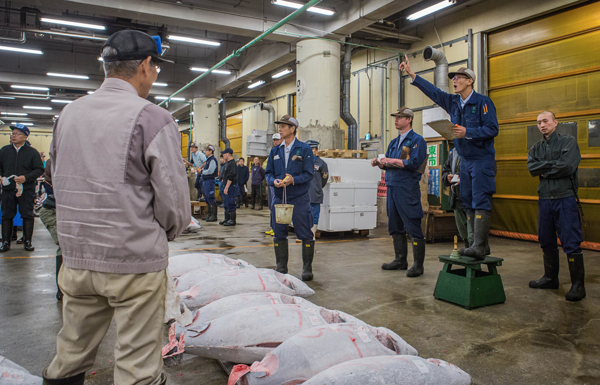 This is a first. It's 3 o'clock in the morning and I'm getting ready to go to visit the local market. It's not just any market, though. Tokyo's Tsukiji Fish Market is one of the world's busiest wholesale facilities, serving an insatiable consumer demand for fresh seafood. Japanese people, in particular, eat around 128 pounds of fish each year — more than any other developed country.
The market itself is a popular dining destination, especially because the sushi is freshest you can possibly get — and it's cheap. But the real reason to go at this ungodly hour is to witness the almost-daily tuna auction during which customers place their bid for the specimen they think will be the highest quality.
While it's free to watch the auction taking place, only 120 visitors are allowed on a first come, first serve basis, so here are 7 things you need to know if you decide to give it a shot:
1. Call a taxi. While the Tokyo Metro is a great option during the day, trains don't run between midnight and 5 a.m. I called Nihon Kotsu ( Nihon-Kotsu.co.jp), which has an English-speaking call center that can be reached by dialing +81 3 5755 2336.
2. Get out at the right place. The fish market is a huge complex — the size of 43 football fields — so the last thing you want is for the taxi driver to drop you off at the wrong location, which might leave you wandering for 30 minutes. Head to the Kachidoki Gate, Sakana Fukyu, 1F.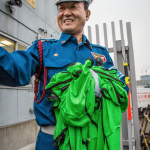 3. Arrive early. Guidebooks recommend arriving anywhere from 4 to 5 a.m., but I think people have wised up and started to go even earlier. We got there at 4 a.m. and were among the last 20 people to be handed safety vests. When they run out of vests, there's no more room.
4. Wait for your turn. The visitors are divided into two groups. The first group watches from 5:25 to 5:50 a.m.; the second, from 5:50 to 6:15 a.m.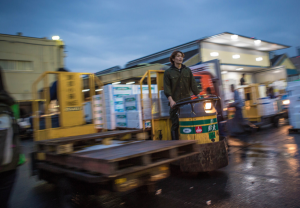 5. Stay alert. It's a busy market with tons of trucks, motorized carts, bicycles and people coming at you from all directions on the way in and out of the auction area. Watch your back.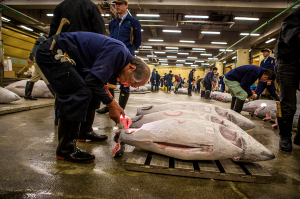 6. Watch and learn. There's no guide explaining what's happening, but it's pretty self-explanatory. Before the auction begins, potential customers walk around to the various frozen fish laying on the ground. With a flashlight, they inspect the fish for color and texture at the tail end.
6. Wait for the bell. When the bell sounds, the bidding begins on the trading floor. It goes pretty quickly, so if you don't speak Japanese, you won't really know the final price. However, I read an article in which a Tokyo-based sushi chain paid a record 155.4 million yen ($1.76 million) for a 489-pound tuna (producing about 10,000 pieces of sushi) at the beginning of 2013. They lost money in the deal, but they just didn't want it to go to a Hong Kong rival for political reasons. The normal price hovers around 15 million yen.
7. Go eat. Reward yourself for getting up so early by grabbing a bite to eat at one of the market's sushi restaurants. Some of the favorite places get a big crowd, even at 7 o'clock in the morning.