9 Great Winter Activities Around Sandusky, Ohio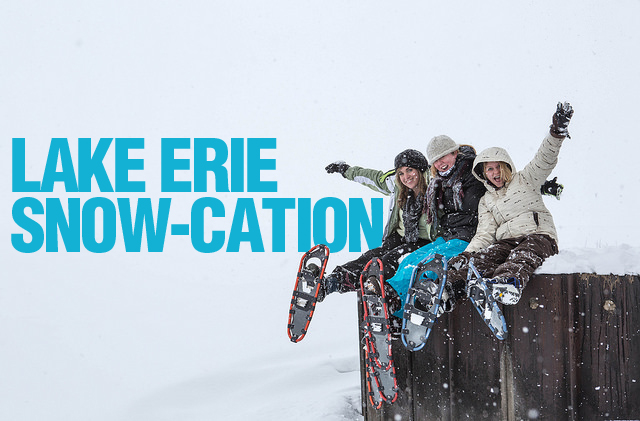 23 February, 2015
travel
fun
,
inside
,
kids
,
Lake Erie
,
ohio
,
recreation
,
sandusky
,
sawmill creek resort
,
shores and islands
,
snow
,
snowcation
,
things to do
,
top things to do in Sandusky
,
winter
Standard
How to make the most of a Lake Erie winter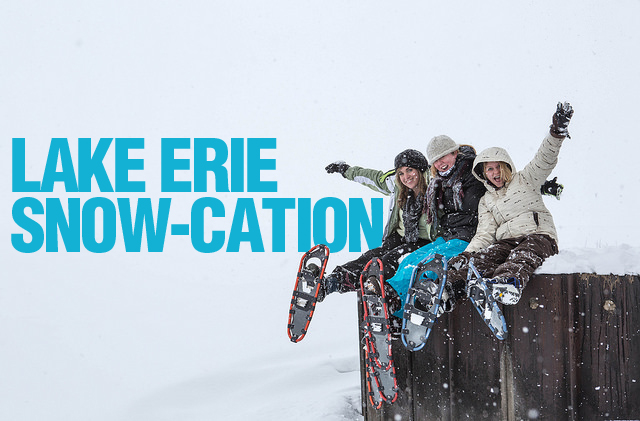 Baby, it's cold outside, but hibernating won't make the winter go any faster. Even if you can't book a trip to a warmer locale, you can make the most of the season with a Snow-cation on the Lake Erie coastline. While the area is better known as a summer playground for young and old, but I discovered lots of fun places to go in the dead of winter. Here a few things to try:
1. Curl up by the fire.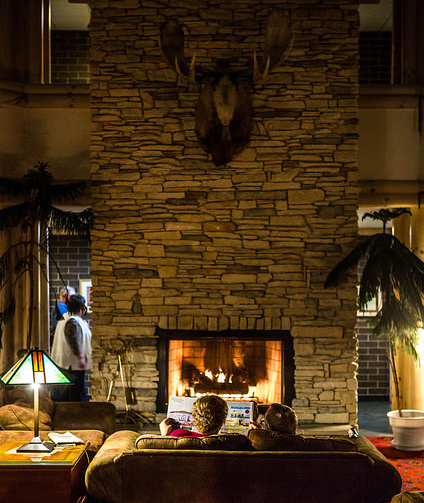 The minute I checked into the Sawmill Creek Resort, I felt at home. The resort has a lodge-like feel that's comfy and cozy. The ambiance is enhanced by large stone fireplaces in the common areas that have oversized leather sofas to sink into. That's where many of the guests gather to keep warm when the temperatures plummet. Winter prices start at $139 per night, including breakfast for two. For $30 more, you can have a fireplace suite.
Sawmill Creek Resort
Address: 400 Sawmill Creek Dr., Huron, Ohio
Phone: 800-729-6455
2. Catch a performance at the Sandusky State Theater.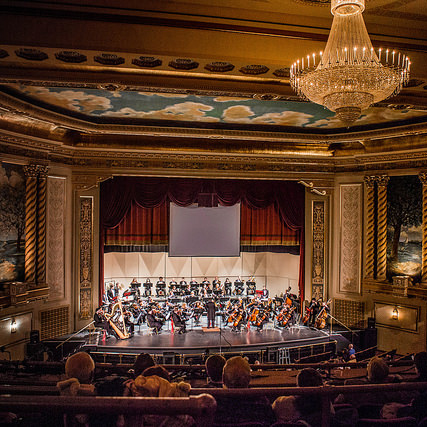 Concerts, Broadway shows, symphony performances and events
The marquee of the Sandusky State Theater shines bright on Columbus Avenue in downtown Sandusky. Opened in 1928 as a venue for vaudeville acts and movies, the landmark performing arts center hosts Broadway shows, comedy acts and concerts, including the award-winning Firelands Symphony.
Sandusky State Theater
Address: 107 Columbus Ave., Sandusky, Ohio
Phone: 877-626-1950
3. Make your own chocolate bar at Tre Sorelle Cioccolato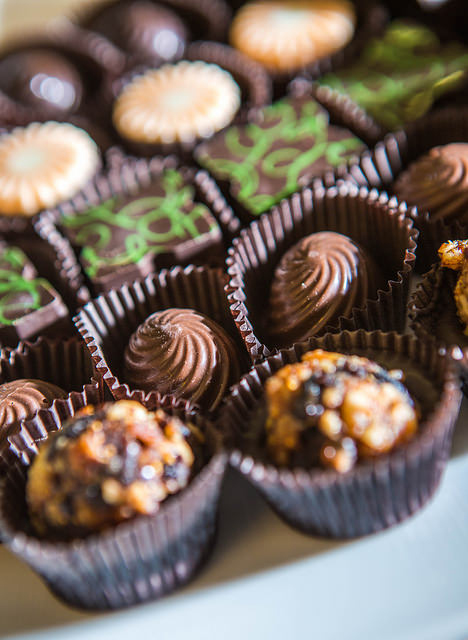 Satisfy your chocolate craving at Tre Sorelle, which specializes in high-quality, hand-crafted truffles and filled chocolates. "We have the oldies, but goodies," says co-owner Jan Beck about the vanilla, chocolate and caramel flavors. Stand-out varieties include some made with wine provided by Firelands Winery. My favorite included a dark chocolate truffle infused with Cabernet Sauvignon. Look for Guinness and Baileys varieties to appear around St. Patty's Day.
If you can get five or more people together, Tre Sorelle Cioccolato can arrange a class in which you can make your own creation in the form of a candy bar. The class lasts two-and-a-half hours and costs between $12-18.
Tre Sorelle Cioccolato
Address: 634 Columbus Ave., Sandusky, Ohio
Phone: 419-502-2462
4. Sample some Ohio wine.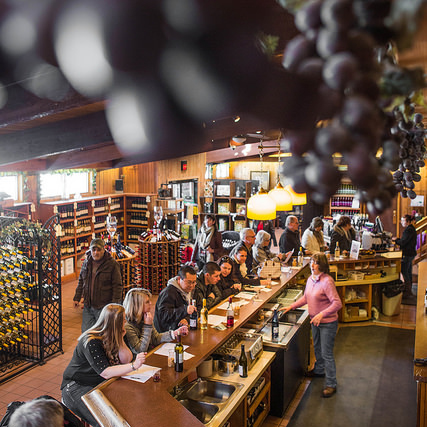 The harvest season may be distant memory, but wine tastings remain in full swing during the winter. Sample a few different varieties at Firelands Winery, which got its start as Mantey Winery in 1880. Lake Erie is historically known for Concord varieties, but winemaker Claudio Salvador is one of the few area producers that has had some success with drier wines, such as the Cabernet Franc and Cabernet Sauvignon. Both are good, but just can't match the robustness of a California red because of the shorter growing season in Ohio. Sweet wines remain popular, especially the Ice Wine, which is made from Vidal Blanc grapes that remain on the vine until frozen. Drink it alone, or pour the syrupy liquid over ice cream for a special treat. From November to May, the winery is open Monday through Saturday from 9 a.m. to 5 p.m.
Firelands Winery
Address: 917 Bardshar Rd., Sandusky, Ohio
Phone: 419-625-5474
5. Have a roarin' good time at Kalahari Waterpark & Resort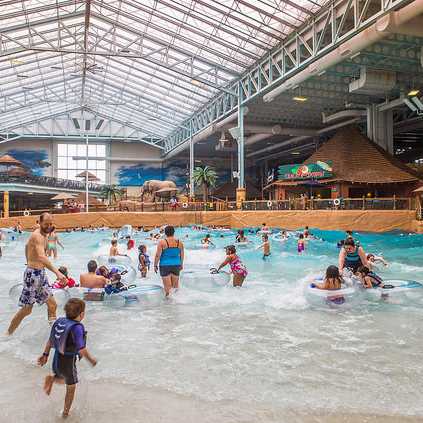 Sandusky is known as Ohio's Waterpark Capital and the African-themed Kalahari Resort reigns supreme with its massive indoor waterpark that can help keep families from going stir crazy in the winter months. When you hit the tropical temperatures inside, the deep freeze outside becomes a distant memory.
Yes, the waterpark is the main draw, but you don't need to buy a waterpark pass to take advantage of the other resort amenities, such as the arcade, indoor mini-golf and the XD Dark Ride, a Disney-like virtual-reality theater.
I scheduled a deep-tissue massage at Spa Kalahari and was thrilled when veteran therapist Scott Young stepped into the relaxation room and called my name. If you do your research ahead of time, you'll find out that he's received rave reviews on Trip Advisor. In just 30 minutes, he managed to tame the tension in my neck and shoulders, although I recommend devoting more time to pampering yourself.
Kalahari Waterpark & Resort
Address: 7000 Kalahari Dr., Sandusky, Ohio
Phone: 419-433-7200
6. Visit The Maritime Museum of Sandusky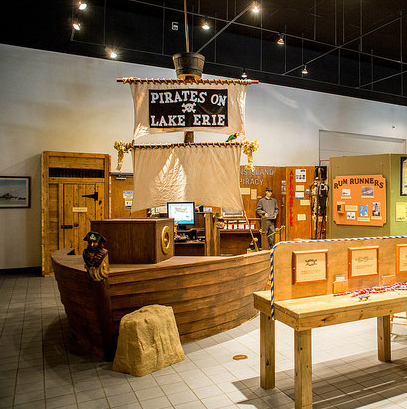 The word "Sandusky" means "at the cold water" in the Wyandot language. Indeed, Lake Erie played a significant role in the growth of the town after its founding in 1817, and The Maritime Museum of Sandusky pays homage to the commercial activities that helped the town thrive. While fishing was one of the largest industries, fishermen stayed busy in the winter harvesting ice. Sandusky's ice traveled to customers as far south as Cuba. The invention of refrigeration led to the demise of the back-breaking work, but you can get a feel for what it would have been like to use an ice saw. In fact, the museum has several interactive exhibits that will be fun for kids. They can build a boat of their own (included in the price of admission) and play on a Lake Erie pirate ship. The museum is open weekends from September to May. Adults, $5; Seniors and Children under 12, $4.
Maritime Museum of Sandusky
Address: 125 Meigs St., Sandusky, Ohio
Phone: 419-624-0274
7. Indulge in Sandusky's culinary renaissance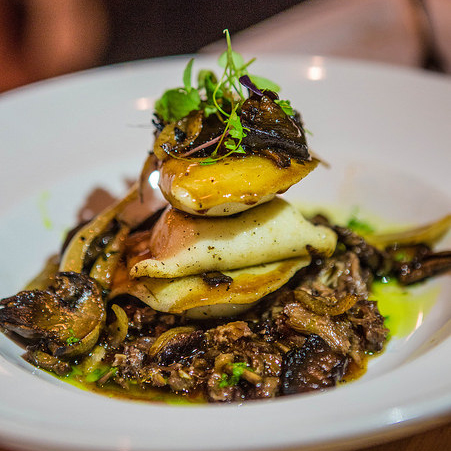 There are not enough meals in the day to really get a taste for the amazing food offerings that are popping up in Sandusky these days. For a meat-and-potatoes town, there are some surprising stand-outs, including the Small City Taphouse. It might draw you in with the promise of 44 craft beers on tap, but you'll be blown away by Asian-inspired menu and a sushi bar tended by Reza "Razor" Mawardy, a sushi master lured to Sandusky by restaurateur and mastermind Kha Bui. Another visionary in town is Cesare Avallone, the chef and co-owner of the Crush Winebar, Zinc Brasserie, Hearth Tavern and the seasonal Dockside Café, which is home to killer walleye tacos. You'll just have to plan a return trip in the summer to give them a try. For a pre-dinner drink, head to the intimate Volstead Bar, which has speakeasy theme and throw-back drink recipes like the Moscow Mule. The best way to spot it is by the 5 lights in above the window. When the red light's on, the bar is full.
8. Head outside for winter recreational activities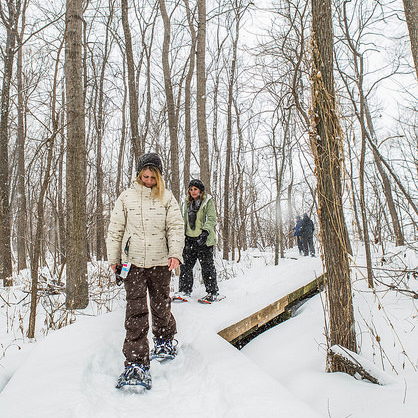 I don't know about you, but the cold never bothered me anyway. Prepare to bring out your inner Elsa and head outside for some "Frozen" fun. Sawmill Creek Resort rents snow shoes that you can use to traverse the grounds, the beach and the adjacent Sheldon Marsh State Nature Preserve, where you might spot wintering bird and raptors. If ice skating is more enticing, there's a frozen pond behind Mulligan's Pub, the resort's golf course club house. If it gets too chilly, warm up with hot cocoa or something a little stronger. It costs $5 to skate and rental skates cost $3 more.
9. Create an adventure all your own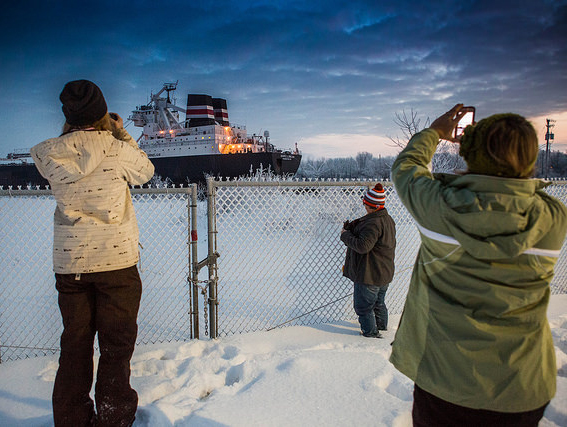 There's a lot more to do and see than what I've mentioned here. I love to just go explore with my camera, no matter the weather. And its even better when you can do it with friends. Nedra from Adventure Mom, Tonya from The Traveling Praters, Cleveland Chick and Shalee Wanders braved the cold with me this weekend. I've taken some of my favorite photos during, or just after, a snow storm. If you're an early bird, head out at dawn, which thankfully is much later in the winter. You'll have the potential for getting great sunrise shots, not to mention capturing wildlife waking up for the day. Sandusky and surrounding Lake Erie towns look great through the lens any time of the year.
____________________________________________________________
This post contains content that resulted from a hosted trip. Yes, sometimes I am given free stuff including transport, accommodation and tours. Any content and reviews produced as a result of these 'freebies' are my own.