5 Thrills for Adventure Junkies
on the New River Gorge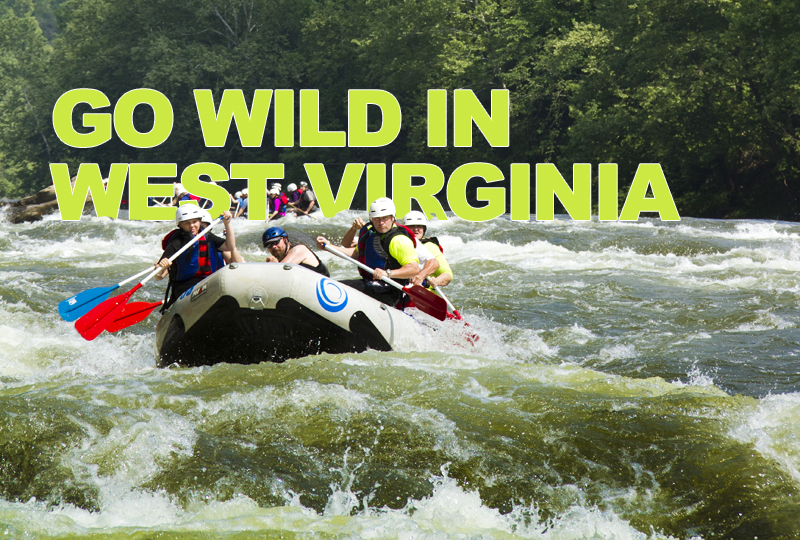 2 June, 2014
Adventure
,
New River Gorge
,
travel
,
United States
,
West Virginia
,
Whitewater Rafting
"Adventures on the Gorge"
,
activities
,
adventure
,
all-inclusive
,
ATV
,
boat
,
catch
,
climb
,
Fayetteville
,
fishing
,
lodging
,
New River Gorge National River
,
raft
,
rappel
,
resort
,
rock climb
,
smallmouth bass
,
Thrill
,
West Virginia
,
Whitewater Rafting
Standard
Who needs Disneyland when West Virginia has plenty of nature-made thrills along the New River Gorge National River. Now considered the adventure-sports capital of the eastern United States, folks come from all over to enjoy everything from white-water rafting within its deep canyons to rock climbing from its highest cliffs. Here are just a few of the abundant active pursuits that can be found on land, on water or in the air:
Rafting

Photo courtesy of Adventures on the Gorge
The most intense, heart-racing way to experience the beauty of the New River Gorge is atop a rubber raft shooting the rapids. Considered one of the best whitewater rafting destinations in the country, if not the world, the New River and nearby Gauley River offer a wide range of experiences that are suited to beginners or serious whitewater enthusiasts. The most popular rafting trips navigate the Lower New, which drops 250 in 16 miles, taking rafters over more than two dozen rapids ranging from Class II to pee-your-pants Class V, depending on the time of year and water level. The river guides have a way of putting fearful first-timers at ease with a combination of comedy, confidence and camaraderie building. "It's really interesting to see the nervous energy of people pacing back and forth when they first get here," says David Hartvigsen, the CEO of Adventures on the Gorge, a premiere resort and tour operator based in Lansing, West Virginia. "But then at the end, they are high on adrenaline and have a certain confidence in their walk." Prices start at $89 per person/midweek.
Rock Climbing / Rappelling

Photo courtesy of Adventures on the Gorge
There are more than 1,400 established rock climbing routes on the Nuttall sandstone cliffs that overlook the New River. The crags and cracks offer plenty of footholds that will bring out your inner rock star. Many climbs require technical skill, but there are plenty of places for novices to give the sport a try with an experienced guide. Adventures on the Gorge offers a multi-sport boat trip ($109) on nearby Summersville Lake, which has cliffs that are accessible only by boat. So if you decide rock climbing isn't your thing, there are kayaks and stand-up paddle boards waiting down below on the emerald-green water. But first, what goes up must come down. Rappelling is the reward for all the hard work you put into scaling to the top of the rock.
Aerial Adventures

Photo courtesy of Adventures on the Gorge
There are several zipline tours in West Virginia, so get out of your comfort zone, take a flying leap from a tree-top platform and soar high above a forest of hemlocks, oak, tulip and poplar trees — not to mention giant, old-growth rhododendrons, the state flower. By far, the hippest zip of them all is Gravity ($109), which reaches heights of about 200 feet off the ground and speeds of up to 60 mph. The sixth and final zip, known as Adrenal-Line, keeps going for 3,150 feet — longer than the New River Gorge Bridge. Better yet, it's dual zip, so you can race a friend to the finish line.
In addition to zip lines, the TimberTrek Aerial Adventure Park ($79) offers a challenging ropes course with a variety of obstacles, such as bridges, swings and zip lines. There are five courses that range from "tame to insane," according to its website. Teetering 30 feet in the air, I saw one participant struggling to maneuver around a moving obstacle. "How am I going to do this?" she asked herself out loud. A few moments later, she had figured it out and moved on to the next challenge.
For an easier way to get "high," there are daily tours of the catwalk that runs below the New River Gorge Bridge, called BridgeWalk ($69). Securely fastened to a safety cable, visitors make a 1.5-mile trek high over the river below, while cars and trucks rumble overhead.
Fishing

Photo courtesy of Adventures on the Gorge
Deep pools and swift currents make the New River and its feeder streams an ideal place to go fishing. The rivers and streams are stocked with walleye, musky, crappie, bluegill, trout and catfish, but the world-class smallmouth bass fishing, in particular, is spectacular. In fact, Field & Stream lists the New River as one of the 10 best smallmouth rivers in the country. "I caught one that was 16 inches long," says Anietra Hamper of Columbus, Ohio. "The state record is 25 inches, so that was really good." Hamper opted to take a fishing excursion with an experience guide, who knew the all right spots. "The guide was excellent," she says. "He held the boat in a rapid like it was no bid deal so we could fish in the rapids." Prices start at $315 for a half day for two people.
ATV Tours

Photo courtesy of Adventures on the Gorge
Want to get dirty? Your name will be "Mud" when you set off on an all-terrain vehicle (ATV) to explore the 100 miles of trails that criss-cross the West Virginian wilderness at the Burning Rock Outdoor Adventure Park. "There's an enormous network of trails," says Dale Leatherman of Kearneysville, West Virginia. "You could go on forever." Following old logging trails and roads cutting through a reclaimed strip mine, you'll meander over steep ridges and splash through deep puddles in a territory that was once known for a famously bloody feud between the Hatfields and McCoys after the Civil War. To reach the best spots, take a guided tour if you're unfamiliar with the area. Prices range from $230 to $370.
Do it all.
There's a lot of fun waiting in West Virginia, but the cost can add up. Save a few bucks by booking an all-inclusive package with Adventures on the Gorge, which offers lodging, meals and all of activities listed here, plus many more. Each day you can choose from three short activities, two half-day or one full day. The all-inclusive rates are based on how long you stay and the level of accommodation you choose. For example, I stayed in a brand new Sunnyside Cabin Suite. A three-day package runs $259 per person per day.