A culinary journey to Uganda: Matoke and peanut sauce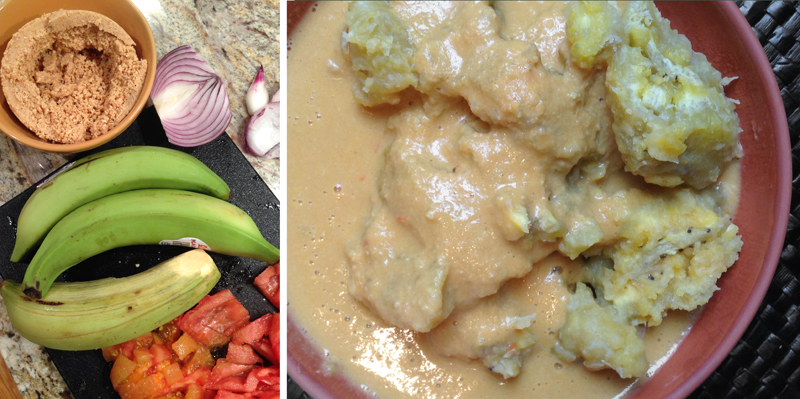 [flagallery gid=1]
The Facebook message read: "Mama, we are at lunch. Matoke and peanuts. Come."
It didn't matter I was thousands of miles away from Uganda, I really wanted to be there and sit around the table with my long-lost friends eating matoke topped with peanut sauce, which is a staple food in the country.
Since a last-minute plane ticket was not an option, I set off on a solo culinary journey to Uganda, starting with a trip to the grocery store to buy ingredients to recreate my favorite Ugandan dishes. Matoke is made with bitooke, one of the many varieties of bananas that grow there. The closest equivalent in the United States is the plantain.
For the next hour, I attempted to get the flavor just right, but I knew the matoke would never be as good as the real thing in its proper setting and with the right ingredients — most notably, my Uganda friends.
Related Story: "Ok Matoke"
Matoke Recipe
The traditional way to make matoke is to steam them in banana leaves, but this version is better suited for the western kitchen. This is a mashed version, similiar to making mashed potatoes. It's then topped with peanut sauce.
Matoke ingredients:
8-10 plantains, peeled and chopped
2 cups of water to boil
Salt, to taste
Optional: 1/2 cup milk and 1 tablespoon of butter
Instructions: Put plantains in a pot, add water and salt, then bring to a boil. Reduce heat and simmer until tender (approximately 20 minutes). Drain, add optional ingredients, then smash them.
Peanut sauce ingredients:
1 cup finely chopped roasted peanuts or creamy peanut butter
1 onion, diced
4 cloves garlic, minced
1 teaspoon turmeric powder
1 teaspoon cumin
1 teaspoon coriander
1 red bell pepper, diced
1 cup vegetable broth
Salt and pepper, to taste
Optional: 1 red chile, 1 tablespoon of butter and chopped cilantro for garnish
Instructions: Sauté onion and garlic in pan for a couple of minutes. Add spices, pepper and option red chile for 1-2 minutes more. Add vegetable broth and the finely chopped peanuts or peanut butter. Bring to a boil, then reduce to a simmer. Stir frequently for 5 minutes or so. Serve over mashed plantains (matoke). Add optional cilantro for garnish.